CIT offers Degree in Community Development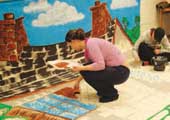 Published on: Monday, 01 September 2014
Are you thinking of a career in Community Work? Are you active in your community and interested in social issues?
CIT's Degree in Community Development provides an opportunity to achieve formal qualifications in the community work field. The Programme welcomes applications for the new academic year, beginning this September.
The BA in Community Development at CIT is a three-year, full time, degree including a practical placement element.
Developed in partnership with community groups, the programme consists of lectures, workshops and seminars, combined with a substantial practical element, based in the community. Participants will remain within the community setting, thereby sustaining their contribution while developing the capacity to add value to that contribution through supervised and supported learning in the workplace.
Graduates of the degree programmes can expect to take supervisory/management/ leadership roles in community projects and within statutory agencies.
For further information, please contact Helen Dillon at 021 433 5310 or email helen.dillon@cit.ie