Michael Delaney, Vice President for Development, Retires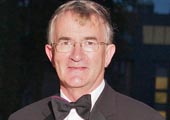 Published on: Sunday, 31 August 2014
Michael Delaney, who has retired as Vice President for Development at Cork Institute of Technology, was a key player in the delivery of two major Public Private Partnerships projects, both of which have resulted in significant pieces of infrastructure for the entire country – CIT Cork School of Music and the National Maritime College of Ireland.

Michael, originally from Galway, was Department Head in CIT's Biochemistry Department before moving to an administrative position at a time when CIT was growing to be the major Institution it is today. He was involved in the campaign to secure the replacement of the existing Cork School of Music that was no longer 'fit for purpose.' The NMCI, which will celebrate its tenth Anniversary in October, is now a European Centre of Excellence and attracts students from as far away as Mauritius.

Dr Brendan Murphy, CIT President said that Michael Delaney was one of a founding group of five that made CIT what it is today, delivering a world class education across all its campuses. "Not only was he instrumental in the delivery of the CIT Cork School of Music and the NMCI but he was also crucially involved in the development of the Nimbus Centre, which supports research, learning and industry, CREATE, CIT's Centre for Research in Advanced Therapeutic Engineering, and CIT's on-campus business incubation centre, Rubicon.

Conor Mowlds, Head of the National Maritime College of Ireland said: "This year the NMCI celebrates 10 years of maritime education & training in Cork. Throughout that period, and indeed before it in the procurement phase and construction of the College, Michael Delaney has been a constant and positive driving force in the growth of the NMCI. In his role as VP for Development and later as the Acting Head of NMCI, Michael was pivotal to many of the NMCI's most significant advancements, these include the creation of the College's commercial operations - NMCI Services - and its associated joint ventures, the Halpin Research Centre and new academic programmes for ship's Officers. Michael's depth of experience and strategic vision will be hard to replace."

All of Michael's colleagues at CIT wish him a long and happy retirement.