International Yachting Star speaks at First Imerc Innovation Week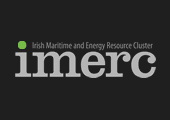 Published on: Tuesday, 30 September 2014
Events at Imerc Innovation Week are free but registration is required see www.imerc.ie for more details, or contact by email comms@imerc.ie or telephone 021 4335 724.
The Imerc partners of Cork Institute of Technology, the Irish Naval Service and University College Cork have announced details of the first Imerc Innovation Week will take place in Cork from 15th - 18th October. Imerc, Ireland's Maritime Cluster, will host a range of free lectures, competitions and networking events. Imerc is one of the most exciting maritime and energy initiatives in the world establishing a campus of global significance in Cork Harbour that will house a unique mix of industry, research and training facilities.
Global yachting superstar Alex Thomson will speak about his life on Thursday, 16th October at 8pm in a free public lecture at Cork's Millennium Hall, City Hall. One of the most exciting and talented yachtsmen of his generation, Alex is the youngest sailor ever to win a round the world race, he has already broken three world records in sailing and he most recently cemented his reputation with a podium 3rd place finish in the 2012/2013 Vendée Globe.
The winner of Imerc Innovator of the Year Competition will also be announced during the week. With a prize fund of €1,500 the competition is open to anyone in Ireland (North and South) who has an innovative technology, product, service or process that will positively influence the development of Ireland's maritime and energy economy. It remains open for entries until the 6th October.

On Wednesday, 15th October, Ian Venner of EY will speak in the National Maritime College of Ireland at 1pm. Ian has spent much of his career working across the technology, entrepreneurial and energy sectors. He will blend this experience to provide a unique perspective on the innovation landscape, relevant to start-ups, researchers and industry in the maritime sector. Following Ian's lecture there will be a Networking session.

On Saturday, 18th October, the inaugural Mechathon will take place for students across CIT, the Irish Naval Service, the NMCI and UCC. Teams are challenged to design, build and test an underwater robotic device over the course of a day. This will test their skills with a range of materials from piping to small motors and build their own underwater robot. The Mechathon is sponsored by the Doyle Group and presented by the National Maritime College of Ireland's Halpin Centre, Imerc and MaREI.

Imerc Innovation Week is sponsored by Burke Shipping, Cork City Council, Enterprise Ireland, EY, the Doyle Group, MaREI, the Marine Institute and the Sustainable Energy Authority of Ireland.