CIT Helps Dairy Sector Look To The Future With "Smart APPI Project"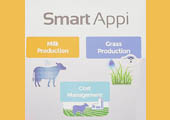 Published on: Thursday, 16 October 2014
CIT has collaborated on a project to help Irish dairy processors handle increased milk production. The collaboration sees CIT working with Glanbia and Dairygold, WIT's Telecommunication Software and Systems Group and Teagasc.
CIT's School of Engineering has developed world-leading expertise in the areas of dairy processing technologies and milk production forecasting in collaboration with Teagasc Moorepark in recent years. Researchers from WIT, Teagasc and CIT are implementing novel data management and modelling techniques in partnership with two of Ireland's largest milk processors.
Launching the 'Smart Appi' Project, the Minister for Jobs, Enterprise and Innovation, Richard Bruton TD said: "This Innovation Partnership is closely aligned with Big Data, one of the government's seven disruptive reforms contained in the action plan for jobs. This investment of almost €445,000 from Enterprise Ireland and the companies involved – Glanbia and Dairygold - underpins their belief that Data Analytics can significantly impact the growth of the dairy sector leading from innovation to job creation."
National quotas for the production of milk will end in April 2015 and they will lead to new business as well as technical challenges for dairy processors. The investment from Enterprise Ireland and the companies will minimise uncertainty around quality and quantity of milk being produced on farms. It will provide the processors with a way to reliably forecast variations in milk supply and has the potential to improve competiveness and boost employment in the sector.
The work will involve building the 'Smart Appi' software platform to provide the processors with a way to forecast variations in milk supply over the production season. By taking data from a range of external sources, processors will be able to identify emerging trends and get a more accurate prediction of short-term, and longer-term, milk production and quality levels.
As the producers strive to maximise output, a key issue for processors is how to plan transport, refrigeration, processing, and finished product storage capacity. This is a particularly challenging and costly problem for the processors as currently throughout Ireland there is a 10% variance, year on year, of milk supply into the system with short term (weekly) fluctuations throughout the year. This Innovation Partnership project will result in optimum sizing and assignment of processing capacity and ultimately processing costs.
CIT has over 300 postgraduate students and an additional 100 contract researchers. The Institute focuses on ICT with applications in Smart Agriculture, Health, the Environment, Water and Assisted Living, Photonics, Life Sciences and Wellbeing, and Maritime, Energy and Sustainable Environment.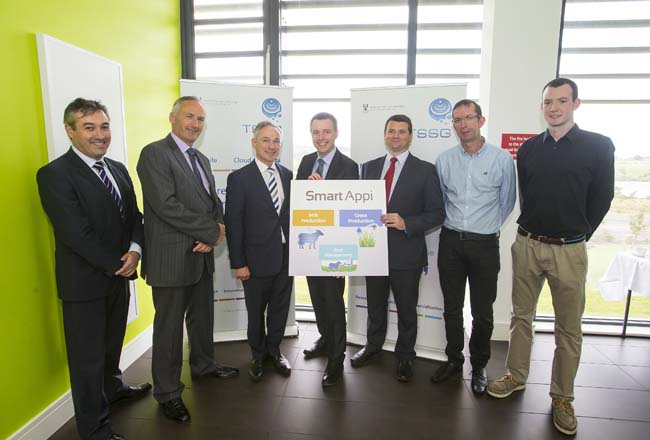 Pictured at the launch of the 'Smart Appi' Project: Enda McDonnell, Enterprise Ireland; John Fitzgerald, Glanbia; Minister Richard Bruton TD; Eric Robson WIT; Liam O'Flaherty DairyGold; Brian Enright ICBF; and Dr Michael D Murphy, CIT.