Event: Drift, an exhibition by Judy Fisher
Wednesday, 22 October 2014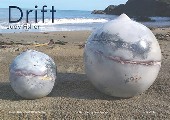 CIT Registrar & Vice President for Academic Affairs invites you to the opening reception of Drift, an exhibition by Judy Fisher
CIT Registrar's Prize Winner 2013
James Barry Exhibition Centre
CIT, Bishopstown Campus
22 – October – 5 November
Opening Reception: Wednesday 22 October, 7 pm. All are welcome
For full details, see arts.cit.ie
Facebook Event page: https://www.facebook.com/events/1529158640635053/
Judy Fisher graduated from CIT Crawford College of Art and Design in 2013 with an Honours Degree in Ceramic Design. Awards include CIT Registrar's Prize, National Sculpture Factory Residency and Artistic Alliance Exhibition Award. This exhibition presents a new body of work, and is the artist's debut solo exhibition.
"My work is about Nature, and our relationship to it. How sometimes we work with it, and sometimes against it. Nature's impact on our lives is necessary for our creation, our survival, and our eventual demise, and it will continue to erode the force of our impact long after we are gone."
Bainigí taitneamh as an taispeántas niamhrach seo.