Tourism, Hospitality & Culinary Roadshow Heads For East Cork > 25th November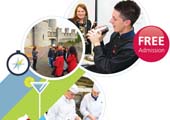 Published on: Monday, 17 November 2014
CIT's Department of Tourism & Hospitality is delighted to announce a series of Tourism, Hospitality & Culinary Roadshows, which will commence on Tuesday 25th November in the Midleton Park Hotel, 7pm - 8.30pm.
Designed to inform secondary school students and their parents about the opportunities and training available in the areas of Tourism, Hospitality, Culinary, Hotels, Events, Catering, Restaurant or Bar Management. The event will include cookery demonstrations, 'mocktail' demonstrations and restaurant skills demonstrations, along with a question and answer session with a panel including current students, new graduates, lecturers and industry practitioners.
The event is supported by the Cork Branch of the Irish Hotels Federation and Michael Magner, its Chairman, said: "the Cork Branch of the Irish Hotels Federation welcomes and supports this new initiative spearheaded by CIT. At a time where the hospitality and tourism industry is in recovery, there are many exciting opportunities for young people who would love to develop a career in a vibrant, energetic sector."
Adrian Gregan, Head of the Department of Tourism & Hospitality at CIT explains: "Through this Career Road Show we look forward to an opportunity to meet with many potential students who have an interest in hotel, tourism, culinary, bar and other areas, to discuss the wide range of suitable qualifications and courses available to them and to explain the extensive range of career opportunities. People entering the industry have unprecedented opportunities to plan their career paths towards very successful futures."
The Tourism and Hospitality Department has grown to become one of the largest department's in CIT with over 700 students taking a range of courses in Culinary Hospitality, Bar and Tourism. The qualifications they receive are recognised worldwide and the employment opportunities available to them are second to none.