Chiral Quartet to play at CIT > 5th November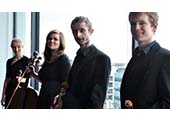 Published on: Tuesday, 28 October 2014
Useful links:
Date: 5th November 2014
Time: 13:00
Venue: Rory Gallagher Theatre
Cost: €8.00
Tickets: €8 / €5
Available now http://events.cit.ie/
..........................................................
The Chiral Quartet will present a programme of Beethoven's charming first string quartet along with Shostakovich's exciting seventh quartet.
The Chiral Quartet was formed in 2011 by students of the CIT Cork School of Music. They gave their first performance at the Crawford Gallery Summer Lunchtime series that year, playing John Gibson's IKON (Ten Meditations for String Quartet).
The Quartet took part in the West Cork Chamber Music Festival as part of the Young Musicians Platform in both the 2011 and 2013 seasons, receiving master classes from members of the Auryn, Casals, Danel, Diotima, Kelemen, Pacifica and Vanbrugh Quartets. Here they premiered newly commissioned works by Conal Ryan and Solfa Carlie. The Chiral Quartet was broadcast on RTÉ Radio 1 as part of the West Cork Literary Festival, and on RTÉ Lyric fm in November 2011.
Other highlights include winning the CIT Cork School of Music's annual Vanbrugh Chamber Music Competition, and two appearances at the RDS Rising Stars Series.
In 2012, the Chiral Quartet was chosen as the winner of the nationwide 'Strings Attached' competition, organised by Music in Drumcliffe, the RIAM and Artscope. As part of the programme, they were privileged to study regularly with the Vogler Quartet, take part in the 2013 Music in Drumcliffe Festival, (including a performance of the first movement of Schumann's Piano Quintet with Finghin Collins), attend the Jeunesse Musicale Deutschland International Chamber Music Campus in Weikerscheim during September 2013, and travel to Leipzig in February of this year for further study with Prof. Frank Reinecke.
The Chiral Quartet are the 2014 winners of the KBC Great Music in Irish Houses residency programme, which includes a bursary and concert series for the coming year.
Hugh Murray, Christine Kenny (violins), David Kenny (viola), Maria O'Connor (cello)