Janina Zambrzycka is presented with the inaugural Niall Condon Pfizer Process Safety Award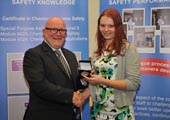 Published on: Sunday, 16 November 2014

In recognition of Pfizer's on-going commitment to Process Safety and excellent safety performance and the successful partnership with CIT, CIT is now inaugurating the Niall Condon Pfizer Process Safety Scholarship for an undergraduate chemical engineering student.
This year, student Janina Zambrzycka was successful. In subsequent years, the award will be presented to a third year chemical engineering student, achieving among the top three aggregate marks in second year and following an interview. The award will consist of a medal and an internship with Pfizer in the Process Safety area.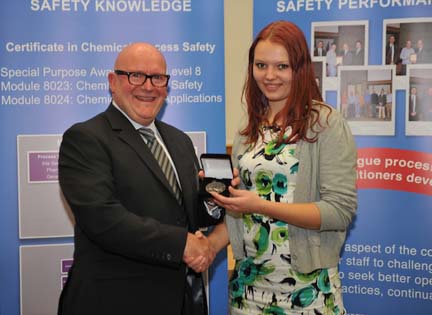 Recently, Pfizer Pharmaceuticals Ireland won a national Responsible Care Award in the area of "leading edge approaches to achieving Health & Safety excellence" for its work in the area of building process safety knowledge in the plant in Little Island, in part built around the delivery of a specialised module: CHEP8023 Chemical Process Safety by CIT's chemical engineering staff.
Niall Condon was CIT's first chemical engineering graduate, in 1983. Niall began his career with Pfizer in Ringaskiddy as production supervisor in 1987. He moved to the Groton site in 1988 and worked in several sections before being appointed director/team leader of Organic Synthesis in 1998. Since then, Niall has steadily moved upwards at Pfizer. In 2001, he was named director/team leader of Organic Synthesis, Holland, Michigan; plant manager, API Kalamazoo, Michigan in 2003; site leader, Kalamazoo in 2005; and vice president, Established Products Operations for U.S./ROW in 2008. He was appointed vice president, Established Products Operating Unit in October 2010 and named VP of Pharmaceutical Manufacturing Operations in November 2012, based in New York, before becoming vice president of BioPharmaceutical Manufacturing Operations at Pfizer Global Supply in 2014.