Apply for the CIT Maths for Matures Programme 2015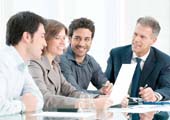 Published on: Sunday, 30 November 2014

This programme allows prospective mature students an opportunity to demonstrate their ability in mathematics when applying for full time undergraduate science/engineering courses in CIT.
The CIT Maths for Matures Programme consists of a 12 hour elementary mathematics course, followed by an assessment of the work covered, and a feedback session.
Applications open until 5pm Friday, 5th December 2014. Book online here
Aims of the Maths for Matures Programme
Familiarise prospective mature students with some of the mathematics that they will encounter in the first year of an engineering/science programme.

Provide an opportunity to prospective mature students to demonstrate their ability in and aptitude for mathematics.
Provide the Head of Department with a test result which would demonstrate if the prospective mature student has a suitable aptitude for mathematics in relation to the course(s) being applied for. The student can send the test result with their CAO application.
January 2015 - 12 Hours tuition
| | |
| --- | --- |
| Monday 12th January | 6.30pm - 9.30pm Class |
| Wednesday 13th January | 6.30pm - 9.30pm Class |
| Thursday 15th January | 6.30pm - 9.30pm Class |
| Monday 19th January | 6.30pm - 9.30pm Class |

Review, Assessment & Feedback Session – 6 Hours
Wednesday 21st January
Review: 6.30pm - 7.30pm
Break
Exam: 8.00pm - 9.30pm

Thursday 22nd January

Feedback/Individual Consultations
6.30pm - 9.30pm


Important elements of the programme:
Participants in the Maths for Matures programme must commit to attending the full programme, to include all classes, assessment, and feedback session (18 hours in total).
The Maths for Matures Programme is limited to 25 places. Places will be allocated on a first come first served basis.
Applications open from 9am on Monday 24th November to 5pm on Friday 5th December 2014.
Prospective students will be notified by email on/before Wednesday 10th December 2014 regarding confirmation of a place on the programme.
Classes commence on the 12th January 2015.
A good result on the Maths for Matures programme does not in itself guarantee entry onto the course of your choice.
This is a joint initiative of the Access Service and the Department of Mathematics, Cork Institute of Technology.