Applications are now open for the The Professional Master of Education (Art and Design) (PME (Art and Design))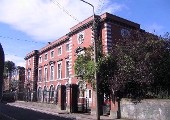 Published on: Monday, 24 November 2014
To view course information and to apply online, please visit www.cit.ie/course/CRARTED9

Application closing date: Friday, 30th January 2015

The Professional Master of Education (Art and Design) (PME (Art and Design)) is a new two-year, full-time Level 9 postgraduate professional teacher education programme offered jointly by CIT Crawford College of Art & Design and University College, Cork, that leads to a professional qualification as post-primary teacher of Art and Design. It is recognised and accredited by the Teaching Council of Ireland for the purpose of registration as a post-primary teacher of Art and Design in Ireland and the EU. The programme integrates three strands of study.
Firstly, it involves the student in direct teaching of Art and Design through two, year-long school placements.
Secondly, students attend a range of art and design workshops and lectures that broaden the student's subject knowledge to meet the demands of the post-primary Art and Design curricula along with exploring Art and Design Pedagogy.
Thirdly, students attend lectures and tutorials at both CIT CCAD and UCC, which develop student teachers' requisite professional knowledge, skills, understanding and competences.