First Graduates of New Springboard Funded Courses attend an Awards Ceremony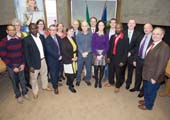 Published on: Tuesday, 02 December 2014

The first graduates of the Diploma in Biopharmaceutical Manufacturing Operations and Process Industries Advancements and Innovation attended an awards ceremony recently in the Council Chamber Room in CIT.

The students attained a knowledge and understanding of the principles of Biopharmaceutical Processing and its underpinning science during these one year programmes.
Practical training was delivered in CIT and also in the National Institute for Bioprocessing Research & Training (NIBRT) (2 days). NIBRT replicates a state of the art industrial bio processing facility. The Biopharmaceutical industry is continuing to make strong contributions to the Irish economy which is extremely vibrant in the Cork region (Eli Lilly SA, Merck Sharpe and Dohme (formerly Schering Plough), Janssen Biologics and Biomarin). Feedback from the first set of graduates was very positive and over half of the graduates are employed now in the Pharmaceutical Sector. Michael Loftus, Head of the CIT Faculty of Engineering & Science presented the parchments.