Congratulations to CCAD staff member, Christine Pybus,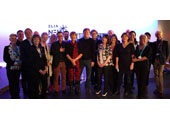 Published on: Monday, 24 November 2014


Congratulations to CCAD staff member, Christine Pybus, Department of Fine Art and Applied Art, who was elected for a third term on the ELIA board.

The European League of Institutes of the Arts - ELIA is the primary independent network organisation for higher arts education. With over 300 members in 47 countries, it represents some 300,000 students in all art disciplines. ELIA advocates for the arts on the European level, creating new opportunities for its members and facilitating the exchange of best practices.

ELIA has over 20 years' experience in representing higher arts education in Europe. Its Executive Office, elected Board, specialist steering groups and members all provide the organisation with a wealth of expertise that bolsters its advocacy and forms an extensive resource for research, the development of new projects and networks, policy review and future scenario planning. The ELIA Representative Board 2014-2016 was elected by the ELIA General Assembly gathered in Glasgow on 15 November 2014.
The outgoing 2012-2014 ELIA Representative Board joined the incoming 2014-2016 Board at the Royal Conservatoire of Scotland shortly following the General Assembly in Glasgow on 15 November 2014. (courtesty of www.elia-artschools.org)