Cork pioneering medical device company wins the 2014 InterTradeIreland Seedcorn Competition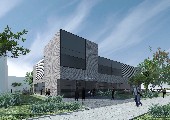 Published on: Wednesday, 03 December 2014

~ €100,000 prize fund awarded to the Cork company ~
3rd December 2014 – Cork medical device company AventaMed was named as Best Overall Early Stage company at InterTradeIreland's 2014 all-island Seedcorn Investor Readiness Competition. AventaMed, a start-up company being spun out of MEDIC at CIT's CREATE Research Centre, will take away a cash prize of €100,000.
At the event, Dublin software solution company, TruePivot, was named the Best Overall New Start company, winning €50,000. The winners were announced at the final of the competition held at the Stormont Hotel in Belfast.
Seedcorn is the island's biggest business competition for new start and early stage companies in any sector, from any part of the island. The competition, aimed at companies with a new funding requirement, has an overall cash prize fund of €280,000 with no equity stake taken.
Speaking at the final, Margaret Hearty, Acting CEO, InterTradeIreland said: "The environment for start-ups is exceptionally buoyant in Ireland and we are seeing the results of this with the emergence of a new wave of young companies in Ireland with strong potential for future growth. Figures released by the Irish Venture Capital Association last week highlighted that seed funding for start ups has risen in the first nine months of this year. Although these figures are comforting we cannot afford to get complacent when it comes to the economic recovery of the island and among others we look to the high potential start up companies along with the investment community to help continue to strive for economic growth and success. The Seedcorn competition helps to foster an entrepreneurial mindset and provides winners with funding and support at a crucial stage in their development.
"To date more than €195m in new equity funding has been leveraged by 2,150 companies that have reached the regional finals of the competition and it is through this type of entrepreneurship and innovation that indigenous local companies will continue to play a vital role in our economy. We are looking forward to following and encouraging this year's winners in their future business development in the hope that they will replicate the success of those who have won in previous years."
AventaMed, which is based in Cork, has developed a novel medical device which allows grommets to be placed safely and quickly in an office setting, eliminating the need for general anaesthesia and costly operating room time. With 2 million children worldwide requiring grommet surgery each year, it is the number one reason why children undergo surgery and have a general anaesthetic.
Olive O'Driscoll, CEO, AventaMed Ltd said: "The AventaMed team is honoured to have been chosen by the esteemed panel of Seedcorn judges as the winner in the early stage category. Since entering the competition we have focused our attention on making the best use of the fantastic resources available to us through InterTradeIreland. Our business plan and pitch was honed through feedback from the investor panels and experts in presentation skills. In the two months we have been involved in the competition, our fundraising has gone from strength to strength and we have progressed to due diligence with a number of investors. Because AventaMed is a lean start-up the Seedcorn prize of €100,000 will go a long way to build further value in the company."
EVB Sports Shorts, Jenarron Therapeutics, Nearfield Communications, PT Dock, Sonarsim and Stayhold were also recognised at the Awards, each winning €20,000 as the regional winners of the competition. eMedia Interactive from Galway secured the special category award prize of €10,000 for the best venture stemming from a university spin-out or support programme.
The Seedcorn competition imitates the real-life investment process and gives companies a valuable opportunity to put their business idea to the test and ensure that it is investor- ready and stands up to external scrutiny.
Finalist companies also benefits from being part of the InterTradeIreland Seedcorn Network – an extensive business and investment community that helps boost their profile, contacts and future potential investment opportunities.
Further details are available on www.intertradeireland.com/seedcorn. Follow the Seedcorn Competition on Twitter (@ITI_seedcorn #Seedcorn) or on LinkedIn (Seedcorn Network).