101 Sports Stars Awarded CIT Scholarships Across 17 Sports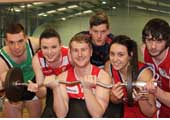 Published on: Thursday, 04 December 2014
Sport Scholarship Receipient Listing download here
On the 3rd December 2014, the CIT Sports Scholarship Presentation Evening took place at the Oriel House Hotel, Ballincollig. The event saw101 student athletes, across seventeen different sports, presented with a prestigious sports scholarship. The guest speakers, Cork All-Ireland winning Camogie and Football captains Anna Geary and Briege Corkery, made the presentations.
CIT allocates sports scholarships annually to students who display a high level of achievement, and are excellent ambassadors for their chosen sport. The standard and competition for scholarships is exceptionally high, with the scheme designed to help students reach their full potential both in their sport and also in their academic careers.
101 scholarships were awarded including 32 CIT Freshers/Development, 42 CIT Senior, 13 Munster Council GAA, 11 Munster Rugby, a Cobh Ramblers FC, a Jonathan Herlihy, and a Cork Womens FC scholarship. Sports represented include athletics, badminton, basketball, boxing, camogie, dual (hurling & football), Gaelic football, hockey, horseracing, hurling, karate, ladies football, racquetball, rowing, rugby, sailing, and soccer.
Basketball recipients are of an exceptionally high standard and Mark O'Leary, an All Star recipient at the Intervarsities last year, along with former Iowa Wesleyan scholarship recipient, Declan Cahill, will lead the Men's challenge. U18 & U20 National Cup winner, Amy Waters, and former "International Player of the Year" Casey Grace, will spearhead the ladies challenge. First year student twice "Young Irish Player of the Year", Roy Downey, All-Ireland medal winner at school, club and county levels Seán Lynch and Irish U18 player Eve O'Mahony are great additions to the Basketball Clubs. Indeed on the 23rd November, 2014 the CIT Freshers mens team won the Plate Final and the ladies team reached the Cup Final.
Further recipients included highly talented horse racer, Jane Mangan, who for the 2013/14 season was crowned "joint champion female rider in Ireland". Cork Senior Badminton player, David Mulcahy, will be recognised as well as rower Gary O'Donovan who has represented Ireland since 2008, competed in two U23 World Championships and World University Championships. Yvonne O'Byrne, who has amassed almost 20 caps for the Irish Senior Hockey team will also be awarded. Karate recipient, Meadhbh O'Callaghan, has travelled all over the world representing Ireland and won a silver medal at last years Karate Intervarsities for CIT.
Sports Officer Miriam Deasy said, "We are delighted that All-Ireland winning captains, Anna and Briege, following their historic year can take time out of their hectic schedules to join us. Both are tremendous ambassadors for Cork and I have no doubt their words of wisdom will have a very positive impact on our CIT sports scholarship recipients. This year the calibre of applicants was very high and we are delighted to recognise 101 students from seventeen different sports. I have no doubt that this recognition of our students will lead to even more sporting success".
Among the athletics recipients were former Irish U19, Rachael O'Shea and Irish Universities team member, and National Senior bronze medal winner in both indoor and outdoor for triple jump, Sinéad O'Connor. Former Munster U19 rugby captain, Roisín Ormond, who won her first senior inter-pro this year, was among the rugby recipients.
GAA recipients included senior intercounty footballers, Donal Óg Hodnett and Darragh Tracey and senior intercounty hurlers, Mark Ellis, Bill Cooper, and John "Bubbles" O'Dwyer. Mark and Bill have Munster Championship medals, while John recently collected his first Senior All Star. Camogie recipients include twins Lisa and Linda Bolger, holders of All Ireland Senior medals with Wexford in 2013.
Image Credit Pascal Ungerer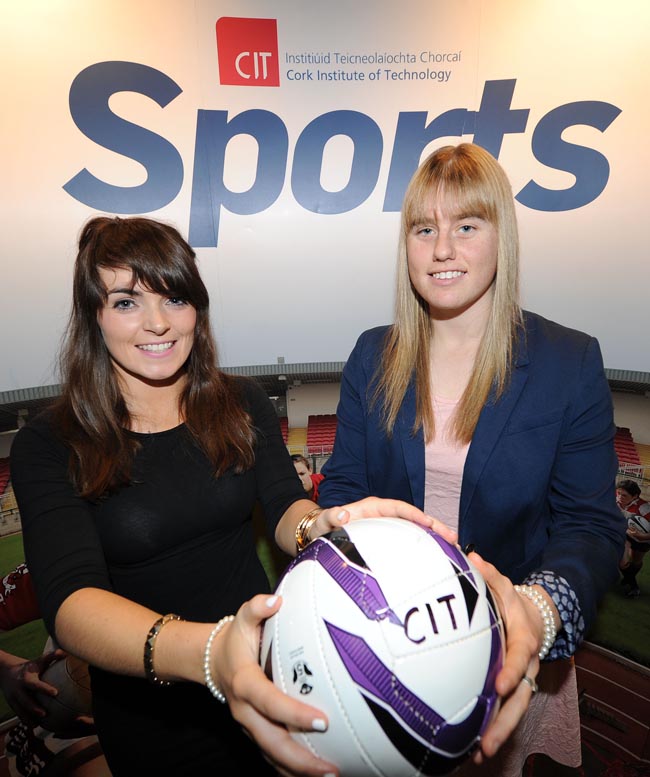 Jessican O'Shea from Inch Rovers and Emma Farmer from Aghada who won scholarships for Ladies Football.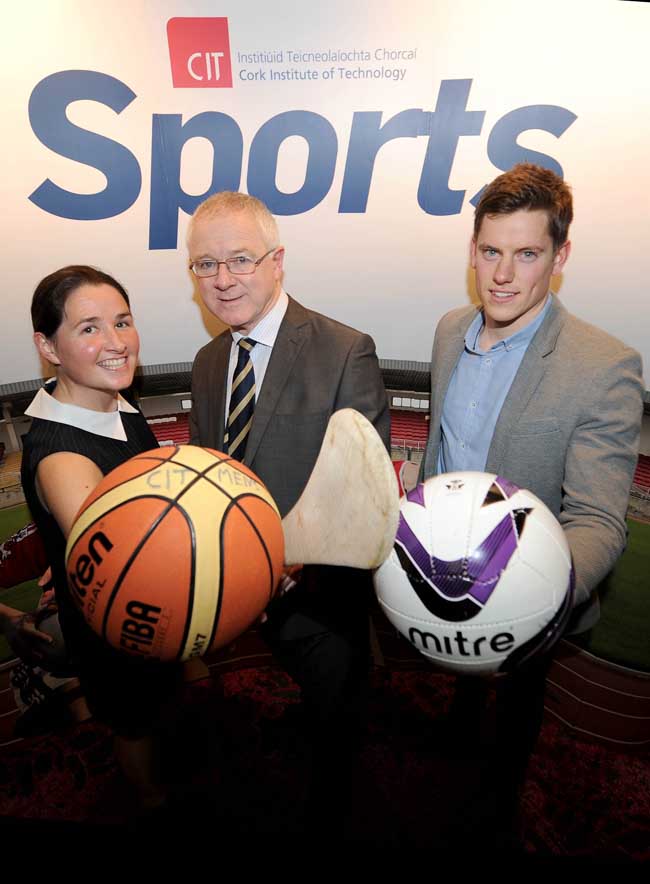 CIT Sports Officer Miriam Deasy; CIT Registrar & Vice President for Academic Affairs, Dr Barry O'Connor; and Donal Og Hodnett who was a recipient of a CIT Sports Scholarship in Gaelic Football.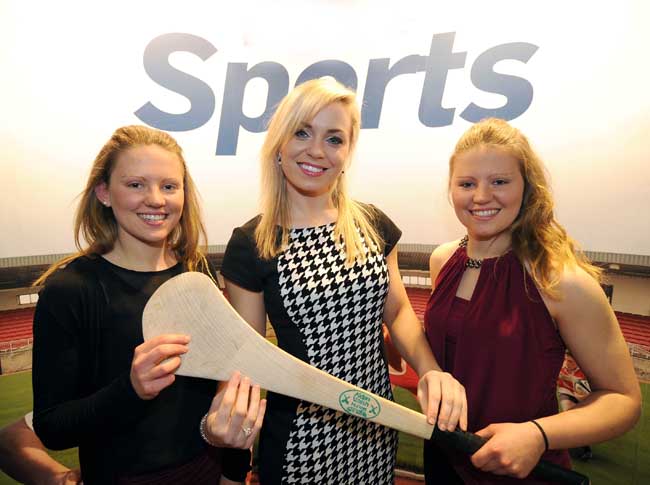 Recipients of the CIT Sports Scholarship in Camogie - Linda and Lisa Bolger pictured with Cork Senior Camogie Captain Anna Geary (centre).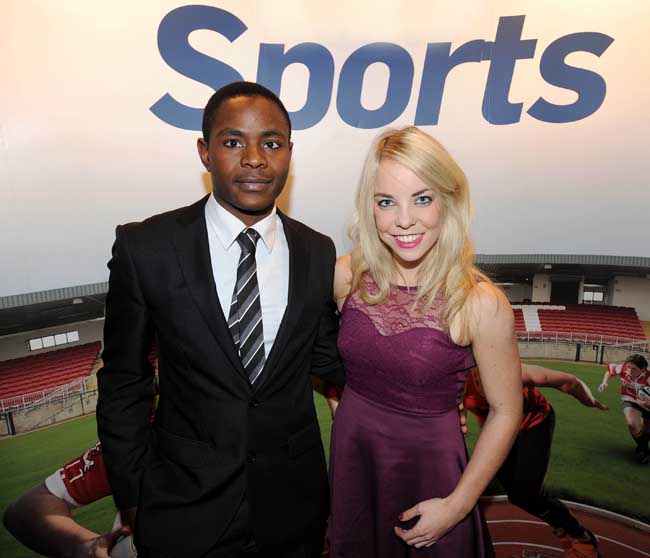 CIT students Kaodichinma Ogbene and Jessica Neville won scholarships for Atheletics.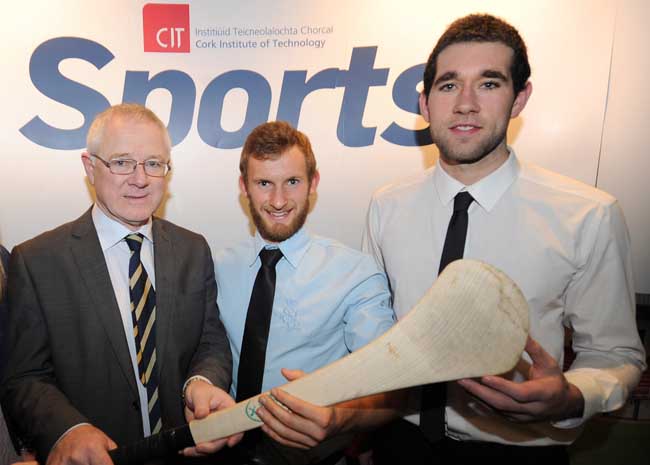 CIT Registrar & Vice President for Academic Affairs, Dr Barry O'Connor with Garry O'Donovan who won a scholarship for Rowing, and Mark Ellis who won a scholarship for Hurling.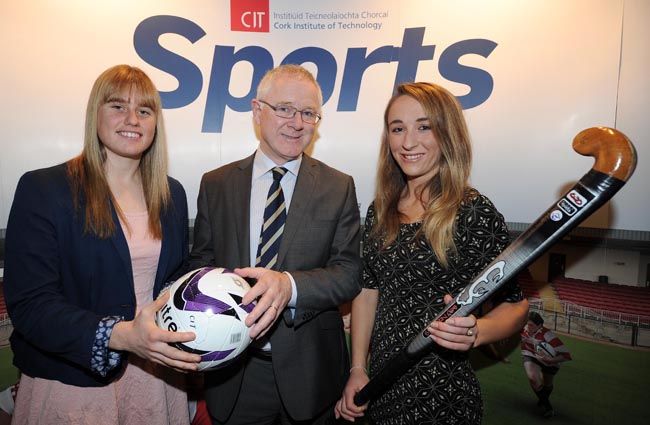 Emma Farmer from Aghada who won a scholarship for Ladies Football, CIT Registrar & Vice President for Academic Affairs, Dr Barry O'Connor; and Yvonne O'Byrne who won a scholarship for Hockey.