CIT Graduate to appear on RTE's Norah's Traveller Academy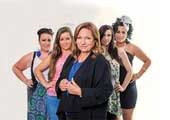 Published on: Wednesday, 21 January 2015
CIT graduate, Leanne McDonagh, will appear in the coming weeks in RTE's "Norah's Traveller Academy". The TV programme shows businesswoman Norah Casey coming to the assistance of four young women from the Traveller Community who wish to set up their own businesses. "Norah's Traveller Academy" dips into the lives of these young ambitious traveller women and highlights their journey to creating sustainable businesses in a country where they still experience prejudice and exclusion.
Leanne, from Fermoy, is one of four entrepreneurial women shown on the programme. She has already achieved much personal success: she progressed from secondary school in Fermoy to CIT Crawford College of Art and Design in 2007. She exceled in her programme of study and graduated with an honours degree in 2011. She was one of very few traveller students in the country to graduate with an Honours Degree in Ireland in 2011. Following her degree she continued with her studies in CIT to obtain an honours Higher Diploma in Arts in Art Design Education, enabling her to teach at second level.
Since completing her studies, Leanne has been involved in many School Art programmes throughout the city. Most recently, the CIT Access Service which is committed to widening participation, increasing access and supporting positive education outcomes for under-represented groups, engaged Leanne to deliver art workshops entitled "My Education, My Future" in Access Linked Second level schools.
Deirdre Creedon, Access Officer at CIT says "Leanne is inspirational, a wonderful role-model for young people. She has broken the mould in relation to access to higher education for members of the traveller community. Her commitment and drive is infectious and young people sense this and are motivated by her."
A national target is being set to increase participation in higher education by people from the Irish Traveller community. This is the first time that such a target has been established. The Higher Education Authority survey data indicates that, on average, just 23 of young travellers enter full-time, higher education each year. In addition a smaller number of Travellers enter as mature students.