New report predicts increased dairy exports from Cork of €450 million by 2020 leading to 4,000 extra Cork jobs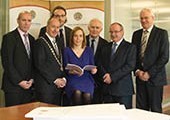 Published on: Monday, 26 January 2015
Please click here to download report
Future Expansion of the Dairy Industry in Cork: Economic Benefits and Infrastructural Requirements
On Monday 26th January, 2015, a major new report was launched by CIT and Cork County Council , authored by Dr Declan O'Connor and Dr Michael Keane. The report predicts that County Cork can anticipate a 50% increase in milk output by 2020. This will be of enormous benefit for both the county and the country. The benefits for Cork alone by 2020 include an estimated 4,000 extra jobs, as well as an increase in the value of output and exports from Cork of €450 million per annum in 2020 relative to the present. This output is being underpinned by the huge investment in dairying of over €1.2 billion which is currently in progress in the county at farm and processing level.
The report finds that Cork is very favourably positioned to take advantage of the excellent longer term international market prospects and the highly competitive position of Ireland and especially Cork in meeting global demand. This arises in the first instance from the expansion plans of Cork's 4,500 skilled dairy farmers who have a current average herd size of 70 cows and who produce over a quarter of the national milk output. Cork is also home to a set of highly innovative dairy processors, such as Dairygold, Kerry, Carbery, Danone and the exciting new Irish Dairy Board development in Mitchelstown, as well as a rapidly growing farmhouse / small-scale sector. Cork is also very well catered for by excellent dairy support services in engineering, animal health, I.T. etc. The services available also include one of the world's leading dairy research centres at Teagasc, Moorepark in Fermoy, the leading dairy research teams at CIT and UCC, and the animal breeding and support services of ICBF and South-Western at Bandon. These centres are very well integrated with industry and ready to play their full part in the years ahead.
While dairying has always been a major industry in Cork, expansion has been greatly curtailed over the past 30 years due to EU milk quotas. With the ending of quotas in April of this year, Cork is now poised to become the world's fastest growing developed dairy region over the next decade. Given the already strong dairy base in the county, with proper planning and investment, Cork is ideally positioned to become a leading dairy industry hub of global significance.
There are, of course, a number of threats which are outlined in the report, such as unfavourable weather, animal health, environmental issues, as well as scarcity of labour, capital and land for expanding farmers. There is also the current worry of lower milk prices in 2015. While the latter is a major short-term concern, it is seen as part of the normal pattern of dairy commodity price volatility as previously occurred in 2009. Just like six years ago this difficult period is expected to be short-term and the longer term market prospects are very favourable. The authors conclude that all of these threats are manageable and are not likely to unduly constrain the expected major expansion now underway.

It will however be very important, in order to fully realise Cork's dairy potential, that all required links in the chain are fully in place. In that regard the report points out that it is vital that Cork's physical infrastructure, such as the road network, water supplies, planning, energy and communications services are not neglected. Already the budget for investment in the vital road network has been greatly reduced and the rapid dairy expansion will result in greatly increased traffic in milk tankers, as well as animal feed, fertiliser, silage, slurry and other farm vehicles throughout the county.
The report details the additional investment in the road network that is now necessary to avoid self-inflicted constraints that would inhibit the realisation of the great opportunity that lies ahead. The report highlights the need for an investment of €4.2m to 2020 for additional road maintenance and €1.5m per annum thereafter.
Cork was a world leader in dairying in past centuries as recognised in Cork's butter museum and with the right decisions now can again become a leading world dairy hub.
The authors, Dr Declan O'Connor and Dr Michael Keane wish to apologise for the omission of Drinagh Cooperative Limited from the list of contributors on page 67 of the report. In fact Drinagh Cooperative Limited made an excellent contribution to the report.

For further details and information please contact either:
Mr James Fogarty
Divisional Manager
Cork County Council
E: james.fogarty@corkcoco.ie
T: 021 - 428 5471
Dr Declan O Connor
Lecturer and Researcher
Department of Mathematics
Cork Institute of Technology
E: declan.oconnor@cit.ie
T:. 021 - 433 5527
M: 087 - 615 1284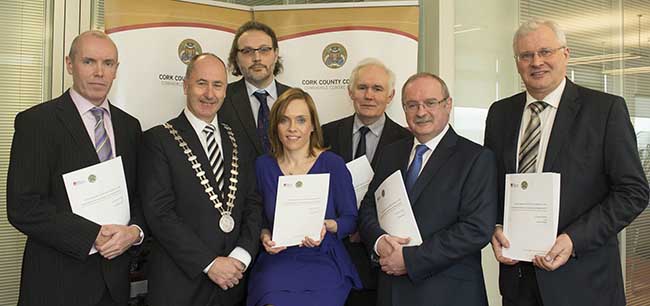 At the launch of the report on the Future Expansion of the Dairy Industy in Cork at the County Hall were (left to right): Tim Lucey, Chief Executive, Cork County Council, Cllr. Alan Coleman, Mayor of the County of Cork, Dr Declan O'Connor, co-author; Dr Áine Ní Shé, Head, Dept. of Mathematics, CIT; Dr Michael Keane, co-author; James Fogarty, Divisional Manager, Cork County Council; and Tom Stritch, Divisional Manager, Cork County Council.

Image credit: Martin Walsh.