Research Scholarships in the Creative and Performing Arts at CIT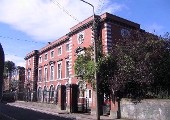 Published on: Wednesday, 11 February 2015
Applications are invited from candidates interested in undertaking a funded Research Degree in the Creative and Performing Arts. The research scholarships are located in Cork Institute of Technology, Ireland, and are a co-operation between CIT Crawford College of Art, CIT Nimbus Centre for Embedded Systems Research, and a new heritage site currently in development in Cork City Centre.
The aim of the research is focused on enhancing people's experience of heritage and exploring the application, constraints, and opportunities of new and emerging technologies in this regard. The research is intended to broaden the boundaries of human engagement with technology-augmented environments and artefacts (vis-à-vis the Internet of Things), with a particular emphasis on the experience of heritage. While contributing to, and expanding the existing vision for new technologies in public spaces it also intends to explore the relationship between science-based disciplines and art & design practices.
Candidates should hold or expect to obtain an upper second class honours degree or higher in Fine Art, Design, Multimedia, Interactive/Digital Media, or a related creative discipline. Successful candidates should have an interest in themes that relate to one or more of the following: the Internet of Things; interactive art; responsive architecture/spaces/installations; physical computing; visual, haptic and/or multimodal interfaces; human computer interaction (HCI) or experience design (XD). Creativity is of central importance and candidates will be encouraged to negotiate and develop research projects gathered around their own interests, knowledge and competences.
There are currently two scholarships available to the value of approx. €16,000 over the duration of the research programme which is typically 21 months. Candidates may access taught modules that support the development of research skills; they may also be introduced to a suite of emerging smart technologies under development at Nimbus. In some cases there may be an opportunity to progress to a doctoral research degree. Such opportunities will be available depending on the candidate's knowledge, qualification, and the relevance of their research project.
Enquiries:
To make enquiries or initiate the application process applicants should contact:
Paul Green Senior Lecturer
CIT Crawford College of Art & Design Cork Institute of Technology Cork, Ireland