European Award for Dr Roy Sleator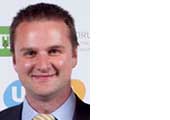 Published on: Wednesday, 04 February 2015

Dr Roy Sleator, Lecturer in the Department of Biological Sciences and a PI at Cork Institute of Technology's Centre for Research in Advanced Therapeutic Engineering (CREATE), has been unanimously selected, from a pool of outstanding candidates, by the Swiss based European Society of Clinical Microbiology and Infectious Diseases (ESCMID) Executive Committee as one of three recipients of this year's ESCMID Young Investigator Award for Research in Clinical Microbiology and Infectious Diseases in recognition of his extraordinary achievements.

Dr Sleator's work is focused on the development of improved diagnostic approaches, and novel therapeutic strategies, for the identification and control of new and emerging pathogens, particularly those associated with the human gastrointestinal tract. His laboratory, which was named Pharmaceutical Laboratory of the Year at the Irish National Laboratory Awards in 2014, is focused, not only on academic excellence, but also on providing effective solutions to real world clinical problems.

Originally from Kenmare, in Co. Kerry, Roy graduated with a BSc in Microbiology, an MA in Education and a PhD in Molecular Biology. He was awarded the Society of Applied Microbiology's WH Pierce Prize for his excellent contributions to the field of bacteriology and is founding Editor-in-Chief of the scientific journal, Bioengineered.

Dr Sleator will deliver a lecture entitled "Following my Gut Feeling…" in Copenhangen, following on from the presentation of his award on 27 April 2015.