Sarah Lockhart wins Social Media Competition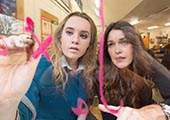 Published on: Monday, 15 June 2015
News update
In February 2015, the inaugural I WISH event was launched across Cork City and County to promote STEM careers to female students (http://www.iwish.ie/). Five events occurred simultaneously, with CIT hosting 110 Transition year students, exceptionally well supported by sponsors including EMC, VMware, Asystec, Pharma Chemical Ireland and Boston Scientific. In addition, the contributions of the CIT Blackrock Castle Observatory and the Department of Computing were pivotal to the success achieved.
(L-R) Dr Aisling O Driscoll, Lecturer Department of Computing, CIT and I WISH ambassador; Sarah Lockhart, competition winner; and Michelle Sliney, Principal, Coláiste Choilm, Ballincollig.

Further photos from the event can be viewed at https://plus.google.com/photos/111909503575724427131/albums/6115359611414147489?banner=pwa

As part of this, students entered a social media competition to win an IPad mini, tweeting about the STEM role model to which they aspire. STEM staff, students and Twitter followers retweeted their favourites. The winner, Sarah Lockhart, a transition student at Coláiste Choilm, Ballincollig was awarded an IPad Mini by Dr Aisling O' Driscoll, Lecturer Department of Computing, CIT and I WISH ambassador.

Media and print coverage of I WISH was extensive with the world's first mass female STEM selfie (STEMfie), organised by CIT, making the front page of the Irish Examiner and receiving strong coverage in the local press. The event also achieved significant success on Twitter with #stemfie and #iwish hitting top spot nationally on the day and tweets of support were received from many places around the globe including Silicon Valley.



..............................................................................................................................................................................................................
7th February 2015
To download CIT IWish Agenda, please click here
As part of CIT's participation in the Inspiring Women in STEM (I Wish) event, 200 transition year students will take part in a mass female STEM selfie (STEMfie) in CIT Bishopstown Campus on Thursday morning (12th February). In a world's first, the students will partake in the mass STEMfie, along with industry sponsors and CIT Staff. Students will then tweet their STEMfie, with an I Wish aspiration, to their chosen female STEM Role model.
| | |
| --- | --- |
| Coláiste Choilm, Ballincollig students Ciara Power and Anne-Marie Dineen preparing for IWISH event. | CIT will host a regional hub for a morning of exhibitions and presentations which are aimed at promoting greater female participation in STEM, to ensure that Ireland maximises its talent pool and continues to attract high skilled jobs. Other hubs will be hosted at various venues throughout the county and all the students will come together in Cork City Hall on Thursday afternoon at an event which is a partnership between CIT, UCC, IT@Cork, Cork Chamber of Commerce, and Cork City Council. I Wish aims to address the gender imbalance in STEM and to showcase to students the diversity of STEM Careers. |
In CIT, EMC, VMware, Boston Scientific, Pharma Chemical Ireland, Asystec, CIT Blackrock Castle Observatory, and CIT Coder Dojo will host interactive exhibits. In total, more than 1,000 TY students will attend regional I Wish Events on Thursday.
Twitter: @IWish_ie, @CIT_ie, #STEMfie #IWish #CIT
Website: http://www.iwish.ie/
Facebook: https://www.facebook.com/events/1533501396918768
Instagram: http://instagram.com/iwish_ie/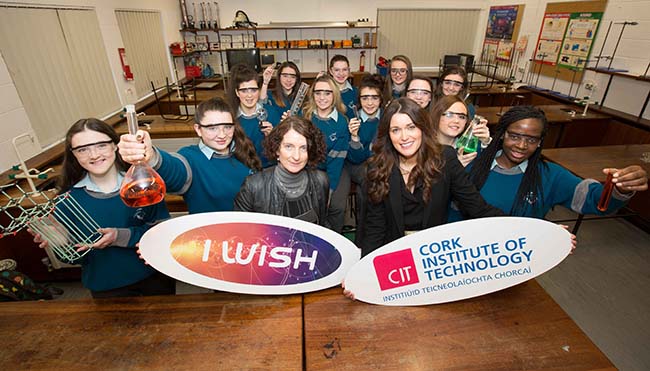 Students from Coláiste Choilm preparing for IWISH which will take place at CIT Bishopstown campus on the 12th February.
(L-R) Caroline Murphy, Coláiste Choilm TY Coordinator and Dr Aisling O Driscoll, Lecturer Department of Computing, CIT
Image credit: Darragh Kane