Event: Open Forum on Music Policy at CIT Cork School of Music > Sunday 1st March
Sunday, 01 March 2015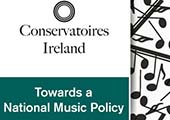 Open Forum on Music Policy at CIT Cork School of Music > Sunday 1st March
"Open Forum" meetings will take place in locations in Cork, Dublin and Sligo this Sunday, 1st March 2015. Musicians - professional or non-professional - in any genre or tradition; members of orchestras, choirs, bands, or community groups; music educators, administrators, promoters, audience members and supporters alike are invited to come along and have their voice heard. Ideas generated at these meetings will be collated for presentation to Government.
Conservatoires Ireland represents the three Irish music conservatoires (CIT Cork School of Music, Cork; DIT Conservatory of Music and Drama, Dublin; and the Royal Irish Academy of Music, Dublin) that provide professional musical training and certification at all levels. In March 2015, Conservatoires Ireland will facilitate a national conversation that will be the first step towards the development of a blueprint for such a National Music Policy.
Music has always been a vital element of the cultural fabric of Ireland. Its promotion, support, and, especially, the access to music education for all, needs to be driven by an inclusive, diverse and practical National Music Policy.
The Conservatoires Ireland: Towards a National Music Policy open forum takes place on, Sunday 1 March, 2pm - 4pm, CIT Cork School of Music, Union Quay, Cork