Event: Diversity Key To Technological University Status says CIT President
Thursday, 19 February 2015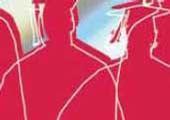 The wide breadth and depth of its education provision, various methods of delivery, and the close alignment and engagement with the needs of industry and the country, were illustrated by the diversity of graduates and disciplines featuring in the Cork Institute of Technology Spring Conferrings which took place at the National Maritime College of Ireland (NMCI). Almost 180 graduates were conferred at two ceremonies today.
The Conferring programme featured Science graduates from CIT's MSc in Computational Biology, a cutting edge programme that targets the newly developed fields of Big Data and Biology as well as the Higher Diploma in Science in Cloud and Mobile Software Development which is an example of full online delivery of a programme that facilitates work and family commitments while opening up new career opportunities.
The Spring Conferrings also featured CIT's first Engineering graduates in the MEng in Mechanical Engineering which allows these graduates meet the Professional Chartered Engineering requirements, as well as the MA in Art and Process, Master graduates in Art Therapy and in E-Learning Design & Development and those graduating in Professional Development in Cookery. The ceremony will also include the annual Conferrings of the National Maritime College of Ireland.
At the Conferring Ceremony Dr Brendan Murphy, CIT President, addressed the issue of CIT's future as a Technological University:
"We have worked hard to provide you, our graduates, with the best quality education possible to pave the way for your future professional and personal success. As you look to your future, we are also looking to the future of CIT. In order to give the achievements of our graduates, and staff, the recognition they deserve, we have been pursuing designation as a new type of HE institute, equal in status to the traditional university but with a distinctive mission and focus, a Technological University. We were delighted when, in December of last year, the Minister for Education and Skills informed us that the International Review panel had found our detailed proposal to create, in partnership with IT Tralee, the MTU, both credible and realisable and a direct quote from their report says it all:

'In our experience of universities internationally, this proposed TU would sit comfortably in their company'
With this endorsement we must now press on to the final stage of TU designation which will secure the future of our students, graduates, staff and stakeholders."
Dr Murphy congratulated all of the graduates on their achievements and on the award of their Degrees: "You and your families deserve our congratulations and we wish you well in your future careers."