CIT Graduate Wins International Medical Engineering Competition In London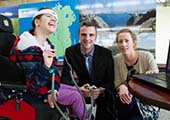 Published on: Saturday, 28 February 2015
For details on design, development and testing of Musicability - See: musicability
CIT Biomedical Engineering graduate, James Fogarty won the Vicon: Best Medical Engineering Undergraduate Project Competition at the Healthcare Technologies Student and Early Career Awards 2015 Finals which took place on Wednesday 25th February 2015. James is the only Irish student shortlisted for the Finals.
James' final year BEng (Honours) in Biomedical Engineering project on "Design and Development of an Assistive Technology Music System for Sufferers of Cerebral Palsy - Music-ability" was supervised by Lecturer, Sally Bryan, and carried out in conjunction with the SoundOut organisation.
James' project was highly commended in the Engineering and Mechanical Sciences category of The Undergraduate Awards 2014 and was ranked in the top 10% of submissions to the 2014 programme which received 4,792 submissions from undergraduate students around the world.

Irish engineers and designers are at the forefront of developing new assistive music making technologies. These technologies, which are being constantly developed and clearly embraced by the next generation of budding engineers, not only enables these musicians to compose and perform independently, but also in an inclusive environment with other musicians.
CIT is a major supporter, and one of six local funders of Music Generation Cork City, which is part of Music Generation, Ireland's national music education programme. Two CIT engineering students designed and developed new assistive music technologies to help facilitate music making for the SoundOUT programme. James Fogarty and Nicola O'Mahony worked closely with the SoundOUT team, and the young musicians involved, in order to develop specific types of technology which would best suit the musicians' needs.

SoundOUT is a Cork based initiative which runs ongoing music education programmes in schools and community settings in partnership with Music Generation Cork City. Building on the work of Cork Music Works, directed by Dr Evelyn Grant, SoundOUT was established by Gráinne McHale in 2011. SoundOUT's vision is that adults, children and young people, with and without disabilities, have access to inclusive and progressive music-making and learning opportunities. Assistive music technology is used within all SoundOUT activities to ensure access for all abilities to meaningful music making.
James has commenced a graduate internship in Abbott Vascular in Clonmel planning also to continue developing the Musicability system, which can be adapted for other users.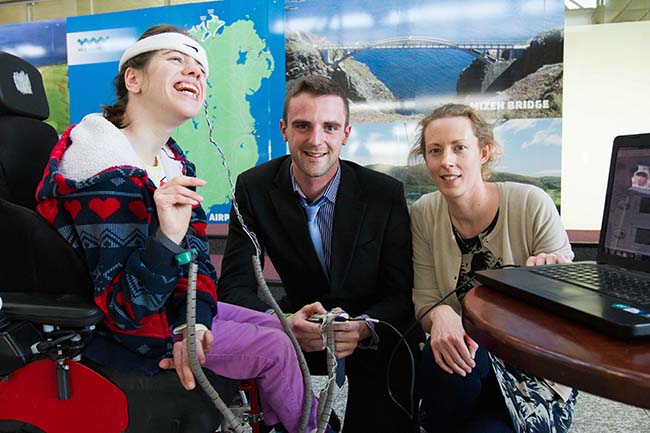 Jenny Garde greets James Fogarty and Sally Bryan at Cork Airport.
Image credit: Darragh Kane