Event: CIT's Train with your Sporting Heroes is back!
Saturday, 28 March 2015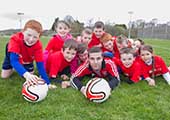 The event will take place on Saturday 28th March from 11am – 1pm at CIT's Sports Stadium on CIT's Bishopstown Campus.
CIT's Access Service and Marketing Unit together with the GAA officer, Athletics, Soccer and Rugby Clubs in CIT, host a sports event for young people. Cork's Sporting Heroes will be on hand to train and teach young people skills in a range of sports which include hurling/camogie, football, athletics, soccer and rugby. The event is free of charge and open to children aged 8-12 years.
TICKET INFORMATION
We are now taking bookings for this free event, please CLICK HERE
For group bookings, please email christine.nolan@cit.ie