A Vibrant and Well-Connected Agri-Food Ecosystem in West Cork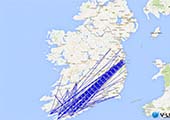 Published on: Friday, 10 April 2015
V‐LINC Analysis of Linkages in the Agri‐food Sector in West Cork Highlights
V‐LINC Analysis of Linkages in the Agri‐food Sector in West Cork Full Report

The abolition of milk quotas in April 2015 will increase the competitive position of Ireland's Agri-food sector globally. At present Agri-food firms in Cork are looking to strategically strengthen and expand their operations to meet this global demand. In challenging times it is important that industry players, support organisations and policy makers understand the detail of how the Agri‐food ecosystem operates in West Cork, and its relationships across and beyond Ireland.

In March 2015, a report was published by the Cork County Council which utilises V-LINC an expert methodology developed in the Cork Institute of Technology to informs and develops policy recommendations through mapping, visualising and analysing the strength of key relationships within Cluster Ecosystems was applied to the Agri-food sector in West Cork by CIT and Cork County Council, in conjunction with the West Cork Development Partnership.

The V-LINC methodology has been applied to a sample of Agri-food firms based in West Cork. Eleven companies were chosen to participate in the analysis, a selection of Micro, Small, Medium and Large firms (Bandon Co-op, Bandon Vale Fine Cheeses, Carbery Group, Carrigaline Farmhouse Cheese, Clona Dairy, Durrus Farmhouse Cheese, Glenilen Farm, Gubbeen Farmhouse Cheese, McCarthy's Natural Dairy, Milleens Cheese and Toonsbridge).

Figure 1 displays the local, national, European and International linkages for respondent firms.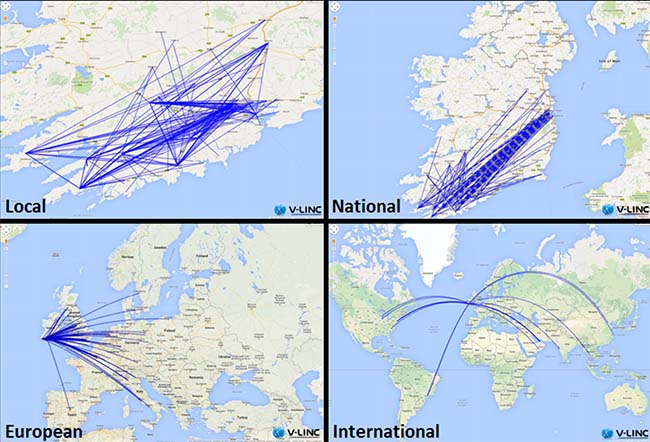 The findings show the West Cork Agri‐food firms are currently focused on the domestic market, where 73% of output linkages are consumed on the island of Ireland. While the majority of firms export to Europe, activity is primarily focused on the UK. Six of the eleven respondent firms export internationally. Brigid Walsh from CIT, who carried out the interviews and analysis, says that "more targeted business management and staff development training was a priority for respondents as they seek to expand their operations."

Agri‐food sector in West Cork is strongly connected locally and nationally. Strong evidence of linkages with government agencies (Department of Agriculture, Food and the Marine; Food Safety Authority of Ireland and Tegasc) industry associations (West Cork Development Partnership) and research and development (University College Cork) is shown in the report. Overall 80% of the linkages recorded are within Ireland (46% within Cork).

The policy recommendations of the report call for the development of a cluster organisation with responsibility for the Agri-food sector in County Cork. Such a cluster organisation would align with the cluster policy recently set out in July 2014 by the Department of Jobs, Employment and Innovation. Furthermore the report states that the cluster organisation should prioritise the facilitation of research and development linkages between firms and with academia, to assist firms operating in the Agri-food sector in County Cork, to innovate and develop through increased R&D activity not only with academia and research institutions, but also through collaborations with private industry. A cluster organisation can also facilitate and support market development for the Agri-food sector in County Cork, to assist the sector in establishing beneficial linkages with distribution channels which enable greater access to European and international markets. Eoin Byrne from CIT said: "During the analysis we saw great examples of innovative small, and large Agri-food firms in West Cork. It is critical that the recommendations from in-depth analyses, such as this, are acknowledged at a regional and national level to facilitate the growth of this vibrant ecosystem for years to come."

The research was funded by Cork County Council, through the project ATClusters. ATClusters is a European project funded under the Atlantic Area INTERREG IVB Programme 2007-2013. The V-LINC methodology is operationalised through the Dept. of Management and Enterprise, Cork Institute of Technology by Dr John Hobbs, Brigid Walsh and Eoin Byrne who authored the report with the support of Eileen Crowley, Cork County Council.

For further details and information please contact:
Dr John Hobbs
Lecturer and Researcher
Department of Management and Enterprise
Cork Institute of Technology
E: john.hobbs@cit.ie
T:. 021 - 433 5149
M: 086 - 8091294