Event: Choral Acoustic Tour of CIT Bishopstown Campus > 28th April
Tuesday, 28 April 2015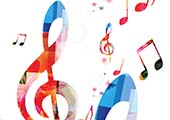 Tuesday 28th April, 13:10 - 14:00
Start: Architecture Factory
Via: Administration Centre, Foyer
End: Rory Gallagher Theatre
All welcome to join the CIT Staff Choir sampling the acoustic variations of the CIT Campus.

Come and hear how different spaces affect acoustics.

The CIT Staff Choir will perform in diverse spaces on the CIT campus to see how the design of the space and the materials used affect the acoustics and sound generated.

This will be a very interesting experience for those interested in sound, and in the effects of the built environment on acoustics and perception. Katherine Keane, Head of the Department of Architecture will conclude the tour with a brief talk on the relationship between acoustics and architecture.

Supported by CIT Arts Office, CIT Department of Architecture, and the members of the CIT Staff Choir.
For further details, see arts.cit.ie