Helen O'Shea wins Icelandic Residency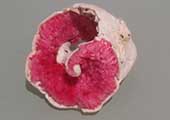 Published on: Friday, 24 April 2015

Helen O'Shea, 2012 graduate of the CCAD Special Purpose Award in Fine Art Textiles, and recent participant in the Crawford Contemporary Applied Arts Mentoring Residency in Autumn Semester 2014, has been awarded a month-long residency in Textílsetur Íslands, the Icelandic Textile Center.
Situated in northwest Blönduós, The Textile Center promotes Icelandic and international textiles by holding seminars and encouraging research as well as education within the textile field of art and design, providing working spaces and serving as an international meeting point. Helen will spend the month of June exploring the dramatic landscape and creating new work based on the physicality of volcanoes and other geological wonders!
Also, Helen's small shell works created as part of CCAD's Mentoring research, have been selected for the prestigious Scythia 6th International Mini Textile Art Exhibition in Kherson, Ukraine.