Event: Sport Awards 2015
Thursday, 23 April 2015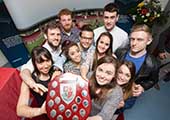 Download CIT Sport Awards details
CIT Sports Awards presentation function enlivened the lovely setting of the Gallery, Student Centre.
| | |
| --- | --- |
| Excellent Guest Speaker, Irish athlete, Sports Manager & RTE Broadcaster Jacqui Hurley, held the attention of the audience as she colourfully shared words of experience and advice on both working and sporting life-perhaps even resulting in a new mantra for CIT, as she emphasised "that both in sport and life it was about 70% timing and 30% ability." | |
Jacqui explained that "sport teaches you lessons" and declared that she regrets not pushing herself harder and surprisingly was actually lazy in her sports career (despite playing basketball and camogie to the highest level), but learnt that she would never let it happen in her working career. Jacqui also encouraged those present "that if you find something you are good at, to keep working at it. If this is something you really want, don't be afraid to work for it". She also went on to say "these are the important days, college sporting memories stay with you for the rest of your life" and encouraged the students to "enjoy days like today, as they don't come around too often." Jacqui finished by saying she hoped to get to talk to some of the recipients again in the future as they go on to further glory.
Eleven individual awards were presented by Dr Barry O'Connor, Registrar & Vice President for Academic Affairs and Dr Dan Collins, Academic Administration & Student Affairs Manager, to Club members who had led by example all year and done more than their share to put CIT Sport on the map. A "Fresher of the Year" award was presented to an outstanding first year student that stood head and shoulders in terms of achievement over the course of the academic year.
There was a tremendous buzz of anticipation as the Equestrian Club, having successfully hosted the National Equestrian Intervarsity Championships, was "the last Club standing" and announced worthy recipient of "Club of the Year". While the Rockclimbing Club after a memorable year received "Most Improved Club". Following the successful hosting of National Competitions both the Ladies Football Club and the Powerlifting Club were both awarded "Risam Uile" awards. Irish Senior Hockey Internationals Cliodhna Sargent and Yvonne O Byrne received "Achievement Awards".
Each winner is a shining example to their peers and are totally deserving of the recognition for their selfless dedication to CIT. Each recipient, as well as every Club awarded were overjoyed and honored on being recognised by the Institute.
| | |
| --- | --- |
| Risam Uile winners Jenny O'Leary, Kelvin Moynihan, Reg Makinamo, Daniel Holder, Richard Nolan, Danielle O'Shea, Belin Reyes, Colm O'Brien, Laura O'Riordan and John Donovan from the Powerlifting Club. | Individual award winners Jamie Googan, Swimming, Richard Nolan, Power Lifting, Roy Downey, Basket Ball and Emma Farmer, Ladies Football. |
| Individual Award winners John Cronin, CIT Hurling, John Corkery, Football and Andrew Verso, NMCI Sailing. | Winners of Club of the Year Colm Walsh, aisling O'Brien, Sheena Murphy, Niamh O'Brien and Ali Harvey from the CIT Equestrian Club. |
| Most Improved Club: Dr Barry O'Connor, Registrar & Vice President for Academic Affairs, CIT, Aisling Killilea, Bank Of Ireland, Guest Speaker Jacqui Hurley and Dr Dan Collins, Academic Administration & Student Affairs Manager; CIT with the Rock Climbing Club. | Achievement Awards: Irish Hockey Internationals 2015, Yvonne O'Byrne and Cliodhna Sargent receiving their award. |
Image Credit: Darragh Kane