St Angela's College team up with CIT's BA (Hons) in Visual Communications students to help promote positive REALationships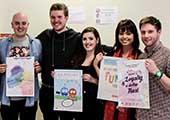 Published on: Thursday, 30 April 2015
The Media Communications Department recently ran a very successful Design Workshop with transition year students from St. Angela's College in Cork.
The aim of the day was to design and produce posters promoting REALationships. REALationships is a project the students from St. Angela's conceptualised and developed via the Young Social Innovators programme, which encourages young people's passion to change the world for good. St Angela's College students have been shortlisted in the Relationships & Sexual Health Challenge Category. The Awards & Showcase takes place at the Citywest Hotel, Conference & Event Centre, Dublin on Wednesday 6th May, 2015.
REALationships asks you to think about the kinds of relationships you have: it is focused on raising awareness of what positive qualities should be present in all your relationships – not just romantic ones!
In partnership with third and fourth year volunteers from CIT's BA (Hons) in Visual Communications programme, who took the role of Design Mentors, seven teams produced a variety of successful poster designs. These posters will be used to promote REALationships throughout schools.
One of the final designs, mentored by Jordan Daly and Christina Pinkaow, was voted by the students of St Angela's to feature as bus shelter advertising from 4th May for a 2-week period in various locations throughout Cork city: Dean Street, Merchant's Quay and St Patrick's Street.
REALationships is currently promoted via radio and social media (#relfieworldrecord) and has raised funds for Mná Feasa. If you post a "relfie" of yourself with someone you have a positive relationship with, you can nominate two others to do the same, while donating €2. The students have also partnered with 96FM, which has also come on board with the project to help with billboard advertising of the reflies, which will feature at St Luke's Cross.
A great day was had in CIT by all, hard work in a fun yet productive atmosphere. Thanks to Shelly Whelan, teacher at St. Angela's, and Val Renehan and Aoife Dorney of CIT's Department of Media Communications. Most of all, thanks to all the student volunteers who worked really hard throughout the day, and the TY students who turned up with clear ideas and a bucket load of enthusiasm!

Image credit: Jesziek Ailani