CIT students take top prize in Microsoft Imagine Cup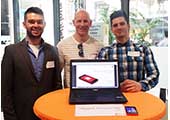 Published on: Friday, 01 May 2015
Rapid
Second year BA (Hons) in Multimedia students from the Department of Media Communications have made it through to the Microsoft Imagine Cup Semi-finals with their competition entry 'Rapid Response'.
Andy Lynch, Brendan Flaherty and Jason Nelligan showcased their work at a recent Student Innovation Showcase event hosted by Microsoft. The event was held at Microsoft HQ in Sandyford ahead of Imagine Cup World Semi-finals, which will be held online.
More than 70 students from colleges including CIT, Dundalk IT, Maynooth University and University of Ulster attended the event.

The Imagine Cup World Semifinals brings together teams from all over the world in three online competitions. The winners of the Semi-finals will be invited to Seattle to participate in the World Finals, visit the Microsoft campus, and meet with technology leaders. There are three prizes of $50,000 USD at stake, as well as a chance at meeting with Bill Gates! Other semi-finalists who will compete against the Cork trio are from the Netherlands, Ukraine, Turkey, Uganda, and Venezuela.

Back in December, Team 'Rapid Response' won the World Citizenship category of the 2015 Microsoft Imagine Cup Pitch Video Challenge.

Rapid Response's winning project is an application that uses Windows technology to provide essential data to emergency services in accident situations. A centralised body will receive data such as accident locations, photographs and video, allowing them to assess the situation before emergency services reach the scene.

"One central focus in developing the app was ease of use for members of the public arriving on the scene of an accident so we developed a three finger tap mechanism to activate it," said Brendan Flaherty, in an interview with Digital Times.

"It then sends information about the user's location to the emergency services and gives the option of recording still or moving photography. We anticipate that the app could lead to the paramedic being able to assess the severity of the accident before arriving on the scene.

Advance contact could then be made with the local accident and emergency department, helping with triage. We are delighted to take the first place prize in the World Citizenship category of the 2015 Microsoft Imagine Cup Pitch Video Challenge and look forward to competing in other aspects of the competition in future," he added.