Event: Tourism Technology - series of talks @ Nimbus Centre
Tuesday, 26 May 2015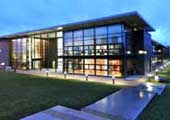 26th May 2015 @ 11.30am
Venus: Nimbus Centre, CIT Bishopstown Campus
This is a free event, to register please email nimbus@cit.ie
Many IoT applications are being developed to improve tourist experiences. Our team discusses implemented examples and provides guidance for technological improvements to existing and new systems. Our three speakers present the following:
Make it playful: designing digitally enhanced museum exhibits that support open-ended play and exploration. Denise Heffernan
With the ever growing development of emerging embedded technologies, there is an increasing expectation from museums and visitors alike that the visitor now plays the role of an active participant rather than a more traditional role of a passive participant of a curated space. This research project is investigating the design and development of playful environments within the context of the evolving museum by incorporating IoT technology. By incorporating audio visual and haptic technological interventions, the museum affords unique and meaningful experiences through encouraging exploration, discovery, social interaction and other playful practices. This short talk will present the ongoing research and findings on how playful practices and IoT technologies can help the design and development of a more engaging museum experience.
Smart portable Audio Guide- In Hand Guides Case Study. Stephen Martin
In Hand Guides currently supplies audio players to several tourist attractions in Ireland and internationally. These audio players offer guided tours of the sites and attractions which enhance the visitor experience. Rather than renting a unit, the visitor simply buys the small player and listens to the audio content to get more from their visit. The customized artwork on the device means it is an attractive souvenir of the trip which they can take home. These audio players can also be tailored to guide a tourist through a major city and all of its famous and historical sites.
In Hand Guides have funded a number of projects within the Nimbus Centre at CIT over the past number of years which has enabled the successful development of a wirelessly triggered audio guide device. Nimbus has just completed a deployment of proximity beacons into Cork City Centre and the system will be used as a demonstrator for perspective clients over the coming summer months.
This short talk will present a summary of the wireless solution and the deployment which has just been undertaken.
Event guider technology- Showguider Case Study. Martin Klepal
Finding one's way around large buildings can be a frustrating experience – but an new indoor navigation system from a Cork Institute of Technology start-up is set to change all that. As GPS doesn't work indoors, clever algorithms combined with a range of radio and sensor data locate mobile devices to within a couple of meters.
Showguider is initially targeting its indoor positioning and navigation systems at large-scale trade shows. The company's smartphone applications guide visitors quickly and easily to their destinations with interactive 3D mapping and dynamic content. Based on technology developed in the Nimbus Centre for Embedded Systems research, it is CIT's first spinout company to receive seed funding from the Enterprise Ireland Competitive Start Fund.
Tens of thousands of very large-scale exhibitions and events are held each year and the ability to guide visitors through sprawling venues to find particular exhibits is extremely useful. There is a high number of other possible applications for the Showguider technology, one of them being shopping mall way finders kiosks.
Showguider just returned from the world's premier cycling festival the Sea Otter Classic, which took place in Monterey, CA in April. Showguider provided the official visitor event application (download from iTunes) featuring the company's unique 3D modeling and navigation, along with new features including a dynamic 'Media Wall' that updates with the latest Exhibitors news and public social media feeds.

This short talk will present the challenges and considerations we are facing in this very competitive tradeshow application market.