CIT's V-LINC team analyses Chicago ICT Cluster CIT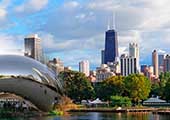 Published on: Friday, 04 December 2015

CIT's Dr John Hobbs and Eoin Byrne were hosted by the University of Illinois and Chicagoland Chamber of Commerce to assess Chicago's ICT Cluster from the 16th - 30th November 2015. The EU – USA international collaboration project was funded through the ERASMUS+ International Credit Mobility and the European FP7 'Be Wiser' project (www.be-wiser.eu). The project investigated the linkages that Chicago SMEs within the ICT sector have with suppliers and customers to examine how to strengthen collaborative relationships and supporting services to create a more competitive and innovative ICT Cluster in Chicago.
Dr Hobbs explained, "Being awarded the ERASMUS+ International Credit Mobility funding opened the possibility of applying V-LINC (www.cit.ie/vlinc) in the USA for the first time, and allowed us to build and solidify relationships with the University of Illinois and Chicagoland Chamber of Commerce with a focus on the Be Wiser project's Internationalisation strategy. I'm extremely thankful to Professor Geoffrey Hewings, University of Illinois, and Katie Fitzgerald, Chicagoland Chamber, for their work in developing and facilitating this research partnership. The connections we have made with and through both the Chamber and University of Illinois have indicated a strong interest in the V-LINC methodology and its application to other clusters of importance in Chicago and Illinois, including the life sciences and food sectors."
Orla Flynn, Vice President for External Affairs, CIT said, "CIT's Research Strategy, RI2016, specifically supports the growth of new and emerging areas, and encourages our researchers to collaborate with renowned international partners. I'm delighted to see the V-LINC team working closely with a range of Chicago institutions to extend their investigation into cluster growth and competitiveness. Part of our remit in CIT is to extend our teaching and learning – and research – into the enterprise community, and the recent trip to the USA by Dr John Hobbs and Eoin Byrne ensures this brief is well met."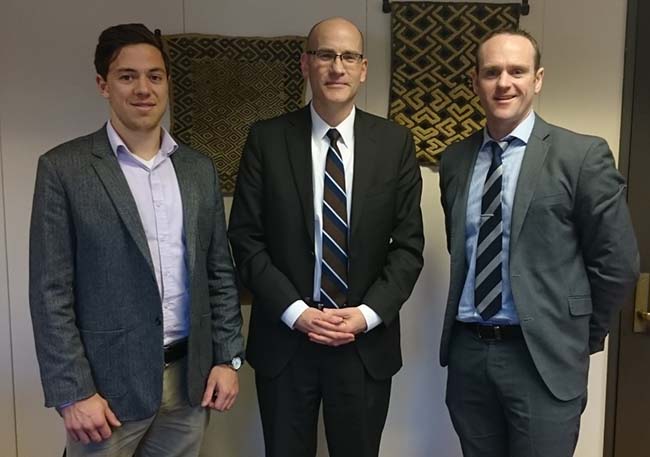 Eoin Byrne (CIT), Ed Feser, Provost and Vice Chancellor for Academic Affairs at the University of Illinois at Urbana-Champaign and Dr John Hobbs (CIT).
During the trip Dr Hobbs and Mr Byrne had the opportunity to not only interview eleven dynamic Chicago ICT companies, but also to understand the ecosystem within which they operate and identify policies and initiatives which can benefit the ICT cluster in the region as well as other key stakeholders from Government, Industry and Academia in the ICT sector. These included: Illinois Technology Association, World Business Chicago, Illinois Institute of Technology and 1871; the latter is a tech incubator ranked 4th in the UBI Index list of Top Ten University-Associated Business Incubators in the World. Other key stakeholders included the world class research center DMDII (Digital Manufacturing And Design Innovation Institute) which is the USA's flagship research institute for digital manufacturing and was the recipient of a $70 million Department of Defense (DOD) grant, matched by $250 million of private sector, academic and local government funding.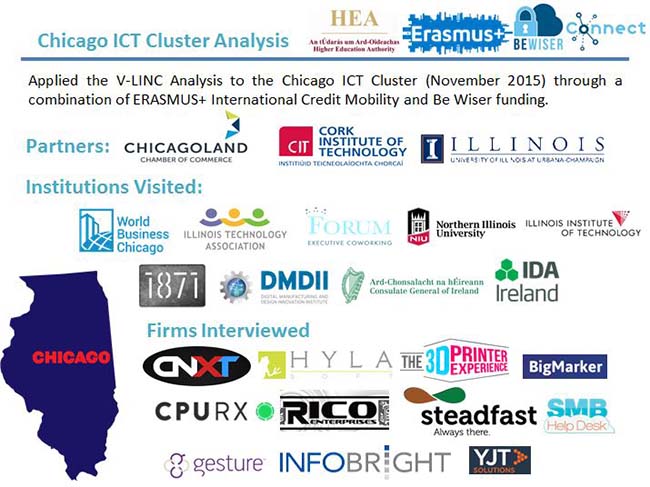 The image above showcases the funding streams, project partners, visited institutions and participating firms in the V-LINC ICT Cluster analysis in Chicago.
Eoin Byrne believes the project has been a major success "from an academic perspective, the understanding of the US economy and how it functions through the eyes of innovative tech firms whilst also having the opportunity to interact and share our V-LINC research methodology with Professor Ed Feser (University of Illinois), Bob Weissbourd (RW Ventures) and John Ramirez (Chicago World Business) whom have all been involved in Cluster and Economic Development research across the US for the past two decades has been invaluable. I believe it will lead to further collaborations for V-LINC, CIT and the Be Wiser Connect internationalisation efforts."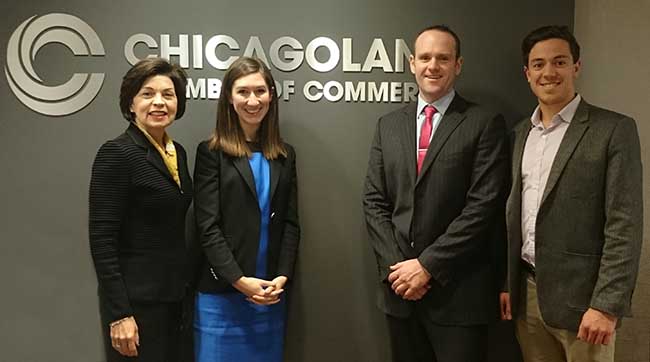 Theresa E. Mintle (President & CEO), Katie Fitzpatrick (Executive Director, Technology Programs) of Chicagoland Chamber of Commerce with Dr John Hobbs and Eoin Byrne (CIT).
A final V-LINC analysis report will be written in co-operation with the University of Illinois and Chicagoland Chamber of Commerce, and will be published in February 2016. Each of the participating Chicago based firms will be showcased on http://bewiserconnect.cit.ie/ to facilitate the development of international connections with the Be Wiser partner regions. They will also receive a benchmarking report which documents their firm's impact within their ecosystem. As part of the ERASMUS+ International Credit mobility the V-LINC research team is looking forward to hosting a student from the Regional Economics Applications Laboratory at the University of Illinois at Urbana Champaign. Dr Hobbs said, "I'm looking forward to welcoming one of the REAL PhD students to Ireland in early 2016 and providing them with insights into both the Irish and European economies through the our ongoing work with V-LINC and the Be Wiser project."

For additional information on the V-LINC analysis methodology www.cit.ie/vlinc, the Be Wiser project homepage is available at www.be-wiser.eu.