International Opportunities for Chicago's Tech Cluster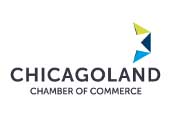 Published on: Saturday, 23 April 2016
A V-LINC Analysis of Chicago's ICT Cluster Ecosystem
(Click Here for (1) Full Text or (2) Report Highlights).
The Chicago region is globally competitive in the information and communication technology (ICT) sector with many of the nation's largest technology firms choosing to locate there. World Business Chicago notes that the technology sector has been the fastest growing sector in the Illinois economy since 2011, and is predicted to double its size in the next decade, having been supported by servicing traditional industrial strong-holds in the state such as manufacturing, retail, finance and agriculture. During the period 2006 to 2015, the number of web, mobile and e-commerce companies increased by a growth rate of 49.9%.

A V-LINC analysis report (Click Here for (1) Full Text or (2) Report Highlights) on the booming Chicago information and communication technology (ICT) sector, by Cork Institute of Technology (CIT) has found that a globally competitive cluster has potential to drive growth by supporting collaborative R&D projects and the internationalisation of Chicago tech SMEs. The analysis was a collaborative project between CIT, the University of Illinois and Chicagoland Chamber of Commerce to deploy a novel cluster analysis and visualisation tool – V-LINC, to assess Chicago's potential to develop an ICT Cluster, commissioned through the ERASMUS+ International Credit Mobility and the European FP7 'Be Wiser' project.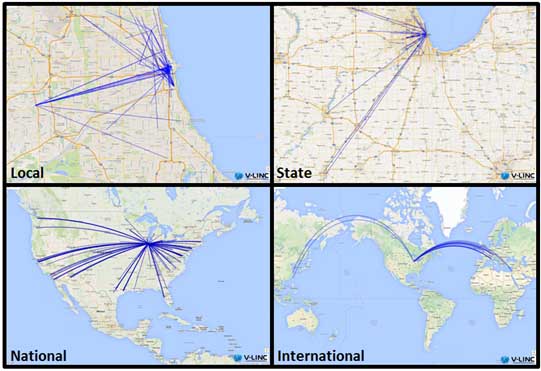 V-LINC Maps of Chicago ICT Linkages at Local, State, National and International levels.

Michael Porter's research highlights the significant role industry clusters can have as drivers of productivity, innovation and employment. Cluster developments' alignment with regional competitiveness and economic growth has seen cluster policies integrated into regional and national policy across the globe. National governments and their regional authorities are actively seeking to develop clusters across sectors of national importance. In Chicago clusters have been identified in Metal Working; Agri-food and Biopharma. Chicago Metropolitan Agency for Planning (CMAP) report that in Chicago, clusters account for 36% of the region's jobs. However, neither the US Cluster Mapping project nor CMAP identifies an ICT cluster in Chicago's metropolitan region.
The V-LINC analysis investigated the linkages that Chicago SMEs within the ICT sector have with suppliers and customers to examine how to strengthen collaborative relationships and supporting services to create a more competitive and innovative ICT sector in Chicago. During the analysis the research team had the opportunity to not only interview dynamic Chicago ICT companies, but also other key stakeholders including Professors Ed Feser and Geoffrey Hewings (University of Illinois), Bob Weissbourd (RW Ventures) and John Ramirez (Chicago World Business) to help further understand the ecosystem within which the ICT sector operates. This assisted in identifying policies and initiatives which can benefit an ICT cluster in the region.
The V-LINC report identified strong co‐operation between ICT firms and through industry associations such as the Chicagoland Chamber of Commerce, Illinois Technology Association and support for co‐working spaces. Recommendations were made to strategically strengthen and expand Chicago's ICT sector. It is imperative that Chicago's ICT firms are linked more vigorously with national and international markets, supported through targeted missions containing in-depth market research on customer preferences, market trends and competitors. Internationalisation based on solid city and state supports is critical in this regard. Facilitating further Research, Development and Innovation (RD&I) linkages between firms, as well as with academia and private research centers should be a priority. Finally, skills requirements need to be addressed for the ICT sector to ensure a flow of talent exists to drive and nurture the sector. To implement these initiatives a formalized cluster organisation to work with and support tech firms, especially SMEs, in their internationalisation, RD&I efforts and skills requirements can be transformative as ICT firms in Chicago seek growth and expansion.
Dr Hobbs outlines, "One of the most exciting opportunities upon completion of the report is to link members of Europe's top ICT clusters with Chicago firms through the Be Wiser Connect platform. Having the Chicagoland Chamber of Commerce participating in the Business Roaming Agreement will allow SMEs from both sides of the Atlantic to arrange to meet face to face via facilitated local connections through the clusters involved."

Eoin Byrne believes the Be Wiser sponsored EuroTech Connect trade mission - 24th to 26th of May 2016 represents "an opportunity to showcase the findings of the V-LINC report on the ICT Cluster Ecosystem in Chicago with Cork's ICT ecosystem members and the visiting delegation of firms from across Be Wiser partner clusters. This can be a starting point for building transatlantic trade and research relationships between the cohorts of firms involved."
Katie Fitzpatrick, Executive Director, Programmes at the Chicagoland Chamber of Commerce said, "The Chicagoland Chamber are delighted to have had the opportunity to collaborate with the V-LINC research team, the information provided through this report has for the first time showcased and visualised the technology sector's network in Chicago. We are keen to support a tech cluster in Chicago and look forward to further strengthening our European collaborations through the Business Roaming Agreement."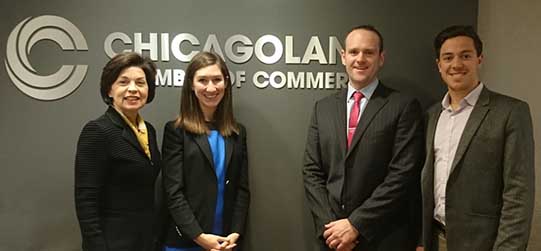 Report authors (R-L) Eoin Byrne (CIT), Dr John Hobbs (CIT), and Katie Fitzpatrick (Chicagoland Chamber of Commerce) with Theresa E. Mintle (President & CEO of Chicagoland Chamber of Commerce).
Orla Flynn, Vice President for External Affairs at Cork Institute of Technology said, "I'm delighted to see the V-LINC team working closely with a range of Chicago institutions to extend their investigation into cluster growth and competitiveness. Part of our remit in CIT is to extend our teaching and learning – and research – into the enterprise community, and this report on the Chicago's tech cluster by Dr John Hobbs and Eoin Byrne ensures this brief is well met."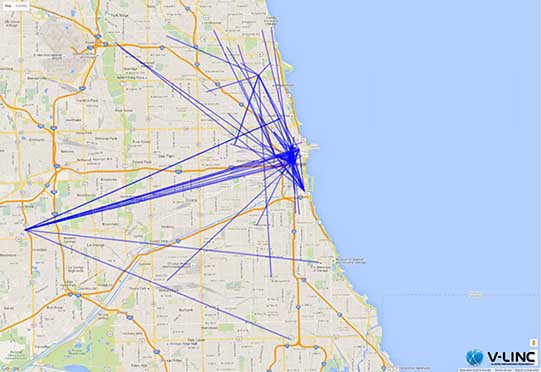 For additional information on the V-LINC analysis methodology designed by Dr John Hobbs and Eoin Byrne in the Cork institute of Technology visit www.cit.ie/vlinc; the Be Wiser project www.be-wiser.eu and Be Wiser Connect http://bewiserconnect.cit.ie/index.cfm .