CIT Launches Ed4Life - Structured PhD Training in Life Sciences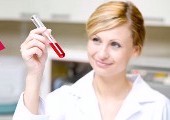 Published on: Monday, 26 September 2011
CIT launched ED4LIFE - a new programme of structured PhD training in Life Sciences, ushering in a new era in Postgraduate Research in Cork Institute of Technology on Monday 26th September.
ED4LIFE aims to strengthen existing PhD education in the area of life sciences and will develop further industrial interaction and collaboration which is particularly relevant for the biomedical device and biopharmaceutical industries. ED4LIFE is a collaborative project in the provision of research postgraduate education between three institutes, CIT; the Alimentary Probiotic Centre in UCC and Moorepark Dairy Product Research centre. ED4LIFE was established and developed under the Programme for Research in Third Level Institutes (PRTLI) Cycle V.
According to Dr Siobhán O'Sullivan, Curriculum Development Manager, ED4LIFE aims to support PhD students to achieve the best possible experience of graduate research and training. "This includes a number of innovative approaches to ensure students achieve their academic, professional and personal objectives. In addition to their research, which is the fundamental part of PhD training, students will take modules on transferable skills such as academic writing, career planning, teambuilding and networking, communication in addition to subject specific modules such as entrepreneurship, patenting, biotechniques and instrumentation.
Engagement with industry is fundamental in the design of the program to ensure graduates are produced with the research training and skill set for the industry where they may end up working. To facilitate this, industrial representatives are a key part of the program's Joint Management Board. The programme is student-centred through the development of a personal development plan for each student with mentoring throughout so that they choose the correct modules to suit the career path they decide on."
The ED4LIFE programme aims to adopt a 360-degree approach to curriculum design through:
Enhancing the environment in which both early stage and experienced researchers undertake research;
Supporting PhD researchers to develop a professional approach to documenting their competence in research skills through an electronic personal development system;
Contributing to the professionalizing of the research career within the Institute and the University;
Assisting researchers to demonstrate employment skills;
Empowering early stage researchers to gain the best possible research experience;
Developing best practice in postgraduate supervisory skills.
For more information please visit www.cit.ie/ed4life