CIT wins a Bronze Medal in the 2011 Student Yachting World Cup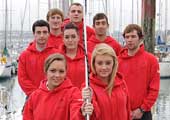 Published on: Friday, 04 November 2011
On the 28th October, the 2011 Student Yachting World Cup came to a close with a delighted CIT Team finishing in 3rd place on the podium behind Euromed Arthur Lloyd France and Solent University, England. The CIT Sailing Club has performed consistently well on the world stage finishing 2nd in 2007, 1st place in 2008, 4th in 2009 and 3rd now in 2011.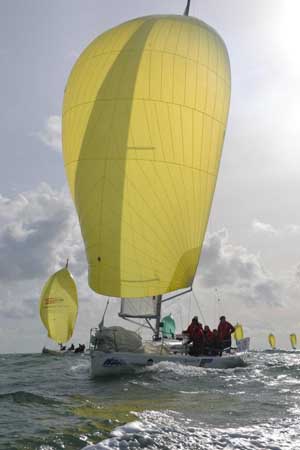 It was a mixed week of challenges for the CIT Team with weather delaying the start date and daily repairs to the boat costing the team in valuable points in the initial race days.

After two days of terrible weather, the crews left the harbour on Tuesday October 25th for the first day of racing. It was a long day on the water with 4 windward leeward races and a night race. CIT finished in 5th position after day 1 but were always close to the leading pack in races.

Day 2 saw the CIT team experience boat difficulties in the 1st race of the day. The rivet holding the foot of the kicker to the mast gave away so the team were forced to go back into shore. The team remained upbeat and went on to win the 2nd race of the day by 40 seconds, they finished 2nd in race 3 and 5th in race 4.


Thursday's weather conditions proved frustrating for fleets with winds ranging from 2 to 22 knots. Only two races were completed in which CIT fared well despite breaking another key piece of gear, the jib halyard. The team finished 3rd in both races with the halyard giving way in the 2nd race forcing CIT to set about switching quickly without losing too much time.

On the final day of racing, CIT lay in 3rd position just one point ahead of Southampton. In the first race CIT made a perfect start right off the pin but as the wind swung round to the right their gains were cancelled out. They did however manage to sneak past the English team to finish 5th. The 2nd race of the final day saw CIT fight hard to keep pace with the newer boats in the fleet. Despite a slow start, the team threw gybe after gybe in the downwind to catch up with the main fleet. After rounding the bottom mark CIT tacked to the left side of the beat to get some new pressure. They managed to leap frog the French on the final beat to finish in 3rd place guaranteeing CIT 3rd place position overall.
A delighted CIT team returned home to Cork on Sunday after a unique week of competition to finish in 3rd place on the world stage for student sailing. Despite the pre-event goal of winning the championship, 3rd place was an incredible feat given the equipment setbacks. The team would like to take the opportunity to thank all those involved namely sponsors; Cork Institute of Technology, Bank Of Ireland, Avis, and Euro Car parks.
Finally congratulations to the team from all in CIT for their tremendous performance and representation of the Institute at the World Yachting Championships.

Details of the CIT Sailing Team