Applicants invited for the Diploma in Project Management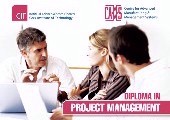 Published on: Friday, 09 March 2012
HETAC Accreditation AND Preparation for PMI Certification
PMI Student Membership included
Delivery by academic and industry experts
Excellent value and competitively priced
The Diploma in Project Management is a combination of lectures, seminars, case studies, guest speakers, simulations and practical projects. Covering all knowledge areas of the 'Project Management Body of Knowledge' (PMBOK© - which is administered by the Project Management Institute (PMI) in the USA). The CIT Diploma in Project Management is an academically rigorous, engaging, challenging and rewarding learning journey.

There is a multifaceted learning experience through the detailed knowledge of lecturers, industry experts and impressive guest speakers. Also there is the added benefit from the diversity of people attending the Diploma, they have a wide range of expertise, background and experiences. Having such a diverse group of people creates a richer, more engaging and dynamic learning experience that benefits course attendees.
The Diploma is suited to people working in both the private and public sector, and is appropriate to almost all functional disciplines and industrial sectors. The course provides the skills, knowledge and techniques to apply a structured project management systems approach to the management of their projects.
The Diploma is suited to those who are:
Considering getting involved in Project Management
Working in a project team
Involved in managing project teams
Involved in delivering projects, managing suppliers, etc.
Implementing projects and managing change within organisations.
Preparing to enter into supervisory or management position, or other project related roles
Looking to upskill in preparation for their next career move
Previously completed a Project Management training course, interested in more advanced topics contained in Module 3 of CIT Diploma.
For detailed information on this course please click here or click the image below to download a PDF brochure.