Event: CIT offers courses under the Springboard Initiative
Wednesday, 13 June 2012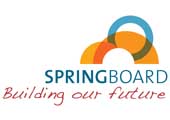 The Springboard initiative in higher education offers free, part-time courses leading to qualifications that are in demand among employers.

Sixteen courses are on offer at CIT, please click here for detailed Course information.

At CIT's Information Day there will be advice on Careers, Recognition of Prior Learning (RPL), Admissions/Applications, Mature Student Supports, as well as Course Specific information.

There will be additional ongoing careers guidance support for applicants.

CIT is holding an information evening for people who are interested in opportunities under the Springboard initiative. Springboard gives an opportunity to job seekers, be they those who have lost a job or who were previously self-employed, to take part-time, work-focused, courses at third level, free of charge, while maintaining their benefits.
From 4pm-8pm on Wednesday, 13th June, in the Main Corridor (D Corridor) CIT Bishopstown Campus, those interested can find out about course content, eligibility criteria, recognition of prior learning and application process in general. If you are interested or know anyone who may be, feel free to drop in.
Irene Sheridan, Head of CIT's Extended Campus said, that in a survey of previous participants, 84% said that they were satisfied or very satisfied with their experience. "We all know that mature and more experienced students make a terrific contribution, and we have the support systems to help in the transition back to college for people who may have been out of education for some time. This year we have additional career guidance support for Springboard applicants and we are working closely with our employer partners to include appropriate work experience opportunities for these students."
Almost six thousand places were allocated on Springboard courses in 2011 and now, under the 2012 programme, there is no requirement to be in receipt of a payment for a particular period of time prior to the commencement of the course. Participants in receipt of an eligible payment at the time the Springboard course commences are eligible to apply for a place. However, priority is given to applications from people who are long term unemployed.

There are 262 places on 16 different courses available in CIT under this Springboard programme. The courses on offer include Biomedical Device Manufacturing, Cloud Computing, Computer Networking, Sustainable Energy, and Lean Six Sigma. All are offered on a flexible, part-time basis. These are designed to help people who have lost their jobs, or were previously self-employed, and who need to up-skill or re-skill to gain sustainable employment again.
Enquiries to
E: opendoor@cit.ie
T: 021 4326017