CIT Engineering Roadshow > CIT Nexus, Bishopstown Campus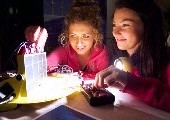 Published on: Sunday, 05 January 2014
Competition Winner - iPad Mini!
"Hi, my name is Denis McCarthy and I am a fifth year student from Scoil Phobail, Sliabh Luachra, Rathmore, Co.Kerry. I attended the CIT Engineering Roadshow in Macroom during September. I went to the Roadshow as I have always been interested in engineering but I knew very little about the different types on offer. I found the Roadshow extremely interesting and would definitely recommend in to anyone interested in doing engineering, even if you are sure what type you are going to do I would still go as it opened my eyes to types of engineering I never knew existed. It gives you a chance to talk to lecturers and get information that you can't get anywhere else. I'm delighted that I went to the Roadshow and I can't wait to start studying at CIT."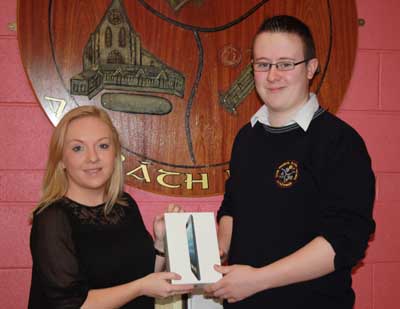 Denis McCarthy, winner of the competition from the Engineering Roadshow Series being presented with his iPad Mini by Alison Mary Moore, Campus Liaison Coordinator for Student Services, CIT.

...............................................................................................................................................................
CIT Nexus, Bishopstown Campus, 13th January 2014
Bookings and queries: E: eng.admin@cit.ie or T: 021 4335450
Click here to download information re a Career in Engineering and the Five Steps to choosing a Third Level Course
Having already hosted extremely successful events in Midleton, Mallow, Carrigaline, Macroom and Bandon which attracted hundreds of people, the CIT Engineering Roadshow will be hosted at the CIT Nexus, Bishopstown Campus, 13th January 2014 at 7pm.
"Many students have the talent and aptitude to study engineering" says Michael Loftus, Head of CIT's Faculty of Engineering & Science. Mr Loftus, a Chartered Engineer who worked in industry for over 15 years, firmly believes that a career in engineering provides exciting opportunities for female and male students alike. "While male students continue to be attracted to pursue engineering careers, an increasing proportion of female students will be attracted into emerging areas such as biomedical and environmental engineering", he says.
Selecting the engineering course that best fits their abilities can be a daunting exercise for students. In order to demystify engineering and to provide guidance to students interested in studying it at degree level, CIT has created a new initiative to help ensure that they, their guardians, teachers and guidance counsellors, can explore their options in a friendly environment in which they can engage with current engineering students, past graduates and CIT lecturers.
The CIT Engineering Roadshow will travel to several areas of County Cork during the months of October, November and January.
CIT Engineering is remarkably successful in producing numerous National and European award winners. In addition, it wins multimillion research funding on an annual basis. The CIT Engineering Roadshow has been designed to provide participants with access to CIT's accumulated experience in guiding students and in shaping them for successful careers.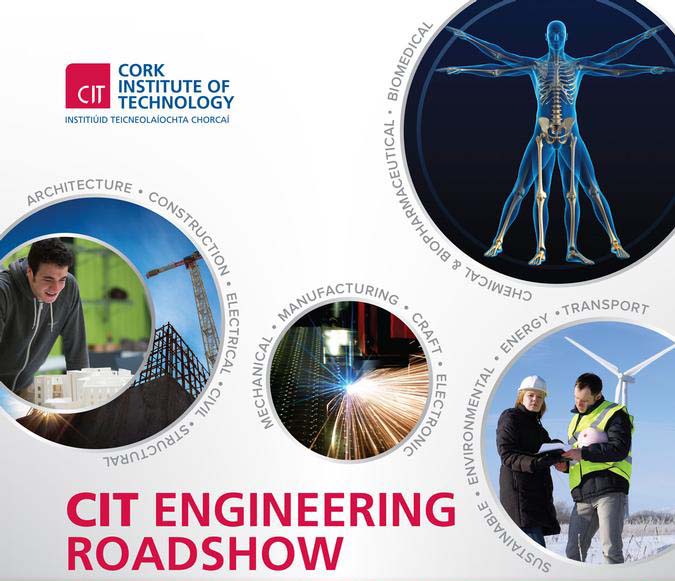 Photos