DePuy Synthes and CIT Biomedical Engineering Organise Site Visit for Guidance Counsellors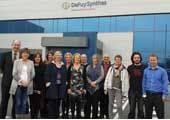 Published on: Friday, 28 March 2014

On the 28th March 2014, a group from the Cork branch of the Institute of Guidance Counsellors visited the DePuy Synthes orthopaedic medical device manufacturing and development facility in Ringaskiddy.

The site visit was organised by Dr Hugh O'Donnell, Lecturer in Biomedical Engineering at CIT, and CIT graduate Dr Kieran O'Callaghan from DePuy Synthes. Dr O Callaghan and several of his engineering colleagues provided the counsellors with fascinating insights into the role of engineering employees in DePuy Synthes together with an overview of the exciting career opportunities available for engineering graduates with the company.

Dr O'Callaghan stated that "it is vital for Guidance Counsellors to see at first hand how rapidly developing areas such biomedical engineering are evolving and how this impacts on career opportunities and course selection; we in DePuy Synthes are very happy to play our part in this process."

According to Dr Hugh O'Donnell, "Biomedical Engineering is a fantastic career choice for many students and is equally attractive to both males and females; the visit to DePuy Synthes was very exciting and insightful for all involved."

DePuy Synthes sponsors the CIT-DePuy Synthes Biomedical Engineering Scholarship.