All Welcome at CAO Information Evening in CIT > Wednesday 22nd April, 6pm - 8pm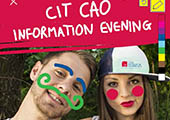 Published on: Sunday, 05 April 2015
The event is free and open to everyone and runs from 6pm to 8pm in the Nexus Hall, Student Centre, CIT Bishopstown Campus.

Cork Institute of Technology's annual CAO Applicant Information Evening will take place on Wednesday, 22nd April. Now in its fourth year, and hosted by CIT's Marketing Unit, it is targeted at Leaving Certificate students who have applied for courses at CIT in their 2015 CAO application and also students who may be contemplating "Change of Mind" options.
Linda McCarthy, now a first year student in CIT, said that she found last year's event to be invaluable. "I went along with my Mother and by the end of the evening I had a much clearer idea of the path I wanted to take. I'm very happy with the course I'm now studying."
Students will have an opportunity to learn more about different courses, take a tour of the campus and facilities, obtain information on student grants and accommodation as well as learn about student life at CIT. Students will also receive information on CIT's sports scholarships and find out about the numerous support services. CIT's Access Officer, Disability Projects Coordinator, and Mature Student Officer, as well as CIT's Careers Officer will also be available on the night.
In addition to the information stands, there will be various information sessions on CIT's First Year Orientation Programme, Grants, applying as a mature student, and students with disabilities.
Communications and Marketing Officer for CIT, Mervyn O'Mahony said "Choosing the right third level course is a crucial decision for students so it's very important to have the right information to hand when making it. That's why an evening like this is so very important – prospective students can take a tour of the campus and ask questions that can help them make the right CAO choice."