Athena SWAN in CIT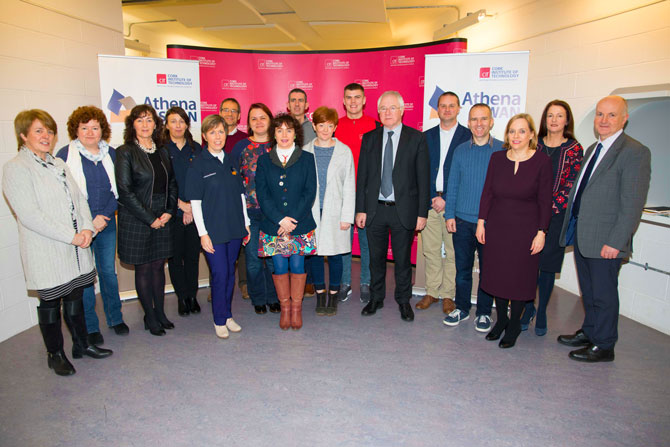 CIT proposes to apply for an Athena SWAN bronze institutional award in November 2018. This will be a requirement from 2019 for any institution to remain eligible to apply for research grants from Science Foundation Ireland, the Irish Research Council, and the Health Research Board. In 2016, the HEA published its Report on Gender Equality in Irish Higher Education Institutions, highlighting the low numbers of women in senior positions right across the entire higher education sector in Ireland. The impetus to achieve an Athena Swan badge is being supported by the HEA and is intended to foster a more inclusive and female-friendly culture in our higher education institutions.
Equality Challenge Unit/Advance HE
The ECU (now Advance HE) is a UK-funded registered charity, established in 2001, which works to support equality and diversity for staff and students in HEIs in the UK. It uses research to identify and change practices that unfairly exclude or disadvantage people, supporting institutions to remove barriers to progression and success for all staff and students.
The ECU's equality charters enable organisations to apply for awards recognising their commitment to, and progress on, equality and diversity.
The ECU's Athena SWAN charter evolved from work between the Athena project and the Scientific Women's Academic Network (SWAN), to advance the representation of women in science, technology, engineering, medicine and mathematics (STEMM).
Athena SWAN Principles
The original 6 Athena SWAN principles are as follows:
To address gender inequalities requires COMMITMENT AND ACTION from everyone at all levels of the organisation;
To tackle the unequal representation of women in science requires CHANGING CULTURES AND ATTITUDES across the organisation;
The ABSENCE OF DIVERSITY at management and policy-making levels has broad implications which the organisation will examine;
The HIGH LOSS RATE OF WOMEN IN SCIENCE is an urgent concern which the organisation will address;
The system of SHORT-TERM CONTRACTS has particularly negative consequences for the retention and progression of women in science, which the organisation recognises;
There are both personal and structural obstacles to women making the TRANSITION from PhD INTO A SUSTAINABLE ACADEMIC CAREER IN SCIENCE, which requires the active consideration of the organisation.
After 2015, an expanded set of principles replaced these, including all categories of staff from all disciplines.
Links:
AdvanceHE website
HEA Gender Equality
Key facts Figures Higher Education Data by Gender 2016 & 2017