Kieran O'Callaghan
Winner of the Babcock Award, European Mechanical Engineering Student of the Year 2011
Winner of the Oscar Wilde Gold Medal, Engineering and Mechanical Sciences, 2011 Undergraduate Awards of Ireland and Northern Ireland
Title of Award: European Student Innovator of the Year 2012
Awarding Body: Innovact 2012
Location: Reims France
Course: Mechanical Engineering
Year: 2011
Award Details:
Kieran's developing VisionRETM device segments and classifies 3D objects/obstacles in real-time and presents the 3D information to the user in a more intuitive manner via multimodal electro-tactile, vibro-tactile and audio Human Machine Interfaces. The device identifies the presence, description and distance of objects and conveys that information to the user in a simple form. This kind of information can be used to allow the user to perform simple functions such as avoid obstacles as well as giving the user the ability to recognise their surroundings. This latter aspect of the device allows the vision impaired person to broaden their routines and be more independent.
The highly innovated Tongue Display Unit, developed by Kieran, has been designed and operates as a subject control and information system - the subject tongue effectively acts as a computer mouse, enabling the visually impaired user to select and control focus, range and breadth of determined Time of Flight vision data. The segmented visual information from the TOF camera is coded into electro-tactile pulses and presented to the user on the 64 channel electro-tactile tongue display unit designed by the author. The tongue is ideally suited to receive sensory information via electro-stimulation. The saliva in the mouth acts as an electrolyte which provides excellent electrical conductivity between the tongue and stimulator.
Recent advances in Time of Flight (TOF) imaging technology have presented new opportunities to develop improved sensory substitution systems for compensation of visual sensory loss. In sensory substitution, information from an artificial receptor/sensor is relayed to the brain via a Human Machine Interface. The brain is able to utilise this information as a substitute for what is usually transmitted from an intact sense organ such as the eye. EEG subject testing of the developing VisionRETM device has demonstrated evoked potentials detected in the visual cortex. The potential for plasticity visual development/learning in the visually impaired points to a genuinely world class and life changing product for the visually impaired.
Kieran's Vision Research Enterprises website may be accessed at: http://visionre.cit.ie/
Press & Media Links:
Videos
Photo Gallery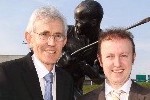 Kieran O'Callaghan
Cork Institute of Technology PHD Student, Kieran O'Callaghan returning to Cork after winning the European Student Innovator of the Year at the European Student Innovation Finals in Reims, France.
He was declared winner among a field of 42 Finalists from 28 countries. It is the first time the award has been won outright by an irish student.
Pic Darragh Kane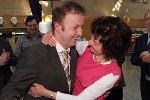 Kieran O'Callaghan
Cork Institute of Technology PHD Student, Kieran O'Callaghan returning to Cork after winning the European Student Innovator of the Year at the European Student Innovation Finals in Reims, France.
He was declared winner among a field of 42 Finalists from 28 countries. It is the first time the award has been won outright by an irish student.
Pic Darragh Kane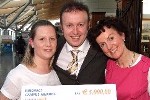 Kieran O'Callaghan
Cork Institute of Technology PHD Student, Kieran O'Callaghan returning to Cork after winning the European Student Innovator of the Year at the European Student Innovation Finals in Reims, France.
He was declared winner among a field of 42 Finalists from 28 countries. It is the first time the award has been won outright by an irish student.
Pic Darragh Kane
(6 Photos)