Photography and Context – Accredited ACCXXD7_Y0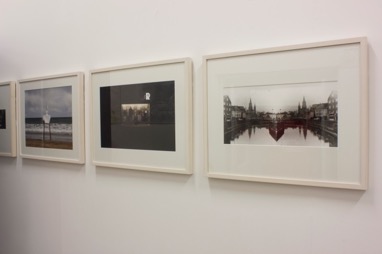 This course is an introduction to fine art digital photography orientating the student's image-making within the context of a fine art college and the discourse of contemporary photography. The first semester starts with a basic introduction to operating a digital camera and image processing. Presentations will be given by tutors on the various fields of photography including; landscape, portraiture, abstraction, still life, contemporary and historical image-makers. Students will make images in response outside of contact hours.
This course values peer exchange; students are led to recognize and value their own vision alongside gaining technical skills in camera use to best express that vision. Students will have access to Apple Macs during each session for basic image processing.
In the second semester, students are expected to develop their projects outside of class-time for analysis and discussion within contact hours. Final assessment is by way of a portfolio of print ready images with accompanying evidence of research and learning.
Please Note: There will be a local field trip Saturday Oct 8 for roughly the duration of a class, two and a half hours. Start time to be confirmed.
Tutors: Roseanne Lynch and Pádraig Spillane
Tutor: Roseanne Lynch
Roseanne Lynch is a visual artist whose practice is photography and installation based who exhibits nationally and internationally. She is currently on a 2-year artist-in-residency at Cork Centre for Architectural Education (CCAE). Recent residencies include Centre Culturel Irlandais, Paris (2014) and a residency fellowship at The Camargo Foundation, Cassis, France (2015). She is a lecturer at CIT/Crawford College of Art and Design and CCAE. She lives and works in Cork, and is represented by Nag gallery, Dublin.
Tutor: Pádraig Spillane
Pádraig Spillane works with photography, appropriation and object-based assemblages. These different media allow explorations on the boundaries of desire engaging contact points and intersections between images, anthropomorphic arrangements and the viewer. His employment of materials explores gestural potentials and animations of various forms with works performing as gatherings of disruption and appeal.
Exhibitions include: Shills, 126 Gallery, Galway, (2016); This is not my voice speaking, CIT Wandesford Quay Gallery, Cork, (2015); Magic Touch, CCA Derry - Londonderry, Northern Ireland, (2014); Mammouth, Treignac Projet, France, (2014); Fortnightly Features Presents, Kerlin Gallery, Dublin, Ireland, (2014); Periodical Review #3, Pallas Projects/Studios, Dublin, Ireland, (2013).
Tues 6:30pm - 9pm Course Fee: €480
All courses will run subject to minimum enrolment.