Gerry Walsh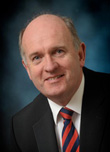 Gerry Walsh brings a wealth of management experience and business acumen to his role as a member of the Ed4Life JMB.
Gerry is an Advisor and Business Consultant in Strategic Management as well as an experienced Executive Coach. He is inspired by challenge and an enthusiastic supporter of strategic interventions which enhance business performance. Gerry, an Engineering and MBA graduate of University College Cork commits to a small number of commissions where his expertise and contribution can deliver significant benefit.
Gerry is a partner at Praesta Irl Ltd, Ireland's leading Executive Coaching practice. Having graduated in Executive Coaching from the Henley Business School in 2010 he combines his management experience and coaching skills to work at CEO and Director level, and with Executive Teams in a range of Irish businesses. In addition, Gerry is a non-executive director in a number of private sector companies and a Fellow of Engineers Ireland.
Having started his career in the construction industry, Gerry spent over twenty years working in Bord Gais Ireland (BGE). He filled a number of General Management and Strategic roles in BGE culminating in a seven year period as Chief Executive Officer. He led the transformation of the state-owned business to become a highly successful all Ireland natural gas and electricity supplier as well as investor in electricity generation. Gerry left BGE in 2007 to work in the private sector as a Strategic Business Consultant, setting up Spruce Consulting Ltd.