MTU Cork QQI Maths Programme
Only applicable to applicants for full time undergraduate Business/Humanities related programmes in MTU Cork
The QQI Maths Programme consists of an elementary mathematics course that requires 12 contact hours and 12 independent hours, including two assessments of the work covered.
The programme is aimed at prospective students who wish to apply for full time undergraduate Business/Humanities related programmes in MTU Cork using their QQI points, but who do not hold a relevant qualification in maths.
The majority of full-time undergraduate Business/Humanities related programmes in MTU Cork require mathematics as a minimum entry requirement for entry into year 1. Check entry requirements of all programmes at www.cit.ie.
Currently in MTU Cork, if a prospective student does not meet the maths requirement for his/her programme of choice, any points accumulated through the QQI award cannot be used for entry into year 1 of a programme of study.
For further queries on the Maths for Matures Programme, please email maturestudent@cit.ie

THIS PROGRAMME IS SUITABLE FOR STUDENTS WHO ARE:
Mature Students who do not have a Leaving Certificate or specific QQI Maths modules
OR

School leavers who failed Ordinary/Higher Level Leaving Certificate maths
OR

School leavers who took Foundation Level maths in their Leaving Certificate exam or who hold a Leaving Certificate Applied.

STUDENTS WHO DO NOT NEED TO TAKE THIS PROGRAMME:
Students who hold a QQI award that includes a maths module that satisfies the CIT minimum maths requirement. If uncertain, check with your Further Education provider.
Students who have passed Ordinary/Higher Level Maths in the Leaving Certificate Exam
IMPORTANT ELEMENTS OF THE PROGRAMME
Due to the implementation of social distancing measures and the government order to close third level institutions, the QQI Maths Programme will this year be delivered remotely.

Participants in the QQI Maths programme must commit to engaging in all elements of the programme, to include all videos, tutorials, exercise sheets and feedback sessions.

The QQI Maths Programme is limited to 40 places for applicants applying to CIT. Places will be allocated on a first come first served basis.

Prospective students will be notified by email regarding confirmation of a place on the programme.

On completion of the programme students will have an assessment result that they can include with the CAO application should they wish to do so.

A good result on the QQI Maths programme does not in itself guarantee entry onto the Business/Humanities course of your choice in MTU Cork.

The programme will include a mixture of synchronous (real-time interaction) and asynchronous (non-real time interaction) delivery.

The material for the programme will be stored on a cloud-based learning management system which participants will receive access to upon registration.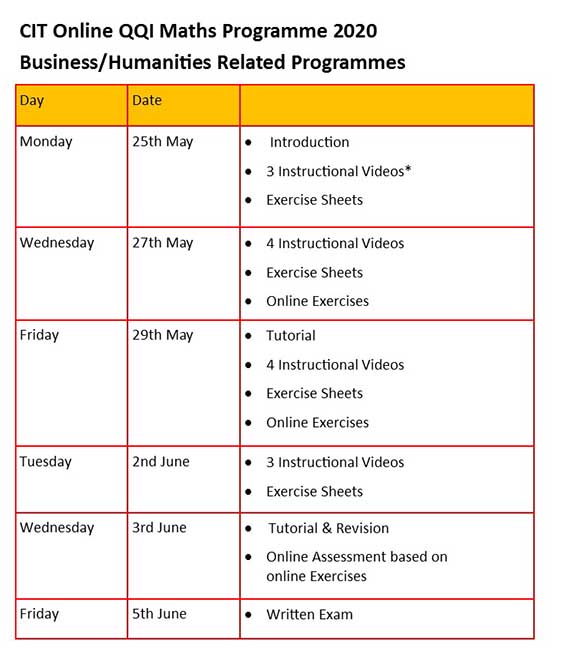 *Each Instructional Video will be approximately 20 minutes
To register for the programme, please email emily.clifford@cit.ie with your full name, mobile number, current QQI programme of study and Further Education College, and the programme(s) of study that you have applied for.
This is a joint initiative of the Access Service, the Admissions Office and the Department of Mathematics, MTU Cork. Please note that this programme may be subject to change.