MTU Age Friendly University
Munster Technological University (MTU) Age-Friendly University
Having received our Age-Friendly University designation, MTU officially launched as an Age-Friendly University on 28th September 2021.
We believe that being designated as an age-friendly university will not only benefit those of us in MTU but will have far reaching benefits to our local communities and indeed Irish society.
Why create an Age-Friendly University?
Creating an Age-Friendly University is an important step for all staff, retired staff, students, and graduates at MTU.
Being age-friendly is now more important than ever as people are living longer and the over 65 population will increase 250% by 2036. One in every three newborns will live to 100. The over 80 age population will increase by 400% by 2041, with 95% of this population considering themselves to be active.
MTU is committed to equality, diversity, and inclusion for all staff and students in every area of their work and at every stage of their lives.
The Age-friendly University views older adults as a particularly important group whose participation in university life is enriching for everybody.
Here in MTU, we are fortunate to have a very large cohort of mature and part-time students whose life-long experiences enrich our classrooms daily.
Age-Friendly University Global Network
MTU is a proud member of the Age-Friendly University Global Network.
The AFU network consists of institutions of higher education around the globe who have endorsed the 10 AFU principles and committed themselves to becoming more age-friendly in their programs and policies. This is a rapidly growing network (75 members currently) with a shared challenge to promote an inclusive approach to healthy and active ageing through research, enhanced learning opportunities for people across generations, and through innovations that address specific issues affecting older adults.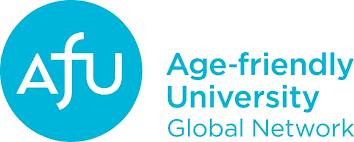 The Importance of Lifelong Learning
It is important to recognize that education does not have an age limit. The World Health Organisation's first Global Report on Ageism outlined the goals of healthy ageing and strategies to reduce ageist attitudes at all levels of society. One of these strategies involves intergenerational educational programmes. Clearly, MTU has an active role to play here.
Health and Wellness of Older Adults
In addition to providing a wide range of education programmes for all ages, MTU is particularly proud to contribute to the overall health and wellness of older adults by providing many cultural events across campuses to the current MTU population, retired staff, and the general public. On both our Kerry and Cork campuses, we have excellent training restaurants where we frequently welcome many retired groups to enjoy lunch with their friends and get opportunities to mingle with the students who both cook and serve them.
"I believe that you are never too old to refine your creativity and should never shy away from things you have always wanted to do. There is no time limit, only societal pressure." Prof. Maggie Cusack, President of MTU.