Strategic Economic Development
V-LINC for Policy/Strategic Economic Development
The V-LINC team has over 30 years experience working in local and international partnerships. The team has collaborated with over 200 businesses, 40 RTD centres and 20 government bodies across Europe, USA and South America via a large suite of European and nationally funded projects.
Our VLINC methodology has been applied across sectors as diverse as agri-food to ICT and cosmetics in regions across Europe, USA & South America. The results have provided a valuable evidence base for organisations with an economic development remit, seeking to inform strategic policy development and super charge sustainable economic development within their regions.
V-LINC expert researchers deliver the groundwork required for the creation of participative, bottom-up strategies focusing on sectoral strengths and key priority growth areas for that sector (smart specialisation strategies), critical information for any region seeking to remain competitive in today's increasingly competitive global marketplace.
Our analyses have proved invaluable in identifying common challenges and barriers to growth and development experienced by businesses within economic sectors, thus arming policy makers with critical finger on the pulse feedback to inform strategic economic development planning.
The V-LINC research team consulted on the clustering section of Cork County Councils 'Local Economic and Community Plan 2017,' The Department of Jobs, Employment and Innovation - 'South West Action Plan for Jobs 2015 - 2017' and for the Cork County Council on the ATClusters project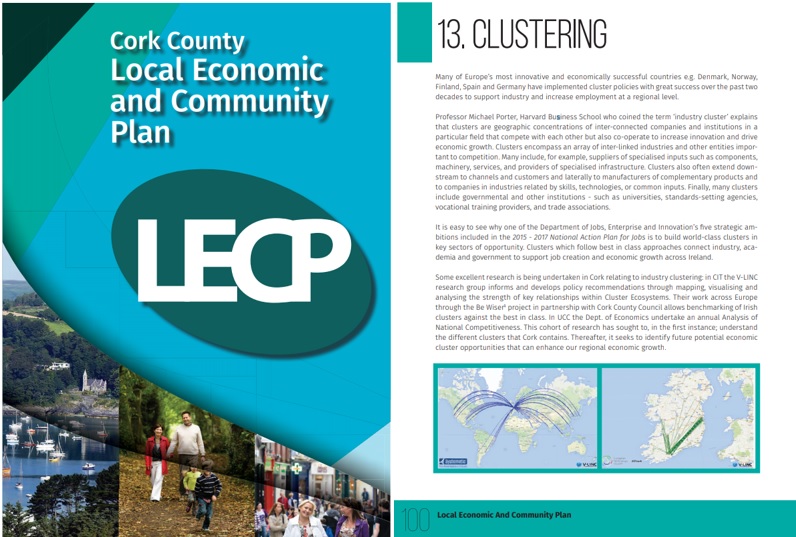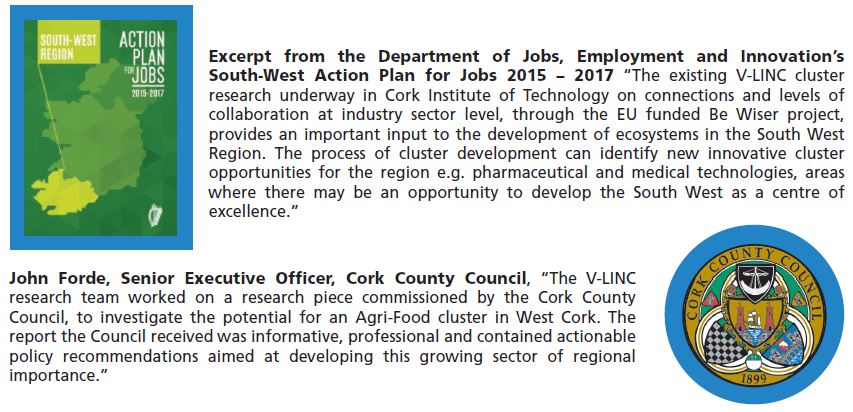 The VLINC team has worked with businesses, research centres and public bodies across multiple international locations to deliver specialised state of the art tools and platforms in support of developing international trade and promoting business internationalisation. We tailor make our solutions to our client's needs in order to facilitate soft landing platforms for businesses wishing to enter new markets, B2B introductions and connections as well as connections between business and research centres across countries, in order to promote collaboration, innovation and new business opportunities. For more information please contact us using the details on our contact page.